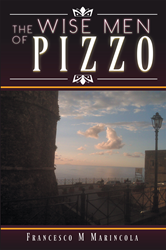 The book is about the life of a little town and the gossip that enlivens it.
Palo Alto, CA (PRWEB) July 25, 2014
The hustle and bustle of everyday life can quickly become too much for any go-getter. Medical researcher, Francesco Marincola's outlet for stress lies within the pages of his newest fiction novel, "The Wise Men of Pizzo."
"The Wise Men of Pizzo" is the story of an immigrant returning home for a fortnight to a coastal Italian town. The man is intent on taking a break from customary life and reorganizing his thoughts around lifelong problems with his wife. The book follows his adventures in this small town as he learns to assimilate with local culture and live a carefree lifestyle.
"The book is about the life of a little town and the gossip that enlivens it," Marincola said. "There, things that may seem minuscule in the big scheme of things are magnified to the adjusted eye of the trained observer."
Marincola believes that "The Wise Men of Pizzo" appeals to anyone who travels, seeks adventure, or feels overwhelmed with life daily challenges.
"The Wise Men of Pizzo"
By Francesco M. Marincola
Price: $23.99
ISBN: 978-1-4990-8626-3
Available at: Amazon, Xlibris and Barnes and Noble online bookstores
About the Author:
Dr. Francesco M. Marincola is the chief research officer of Sidra Medical and Research Centre in Doha, Qatar. He is president of the Society for the Immunotherapy of Cancer and editor-in-chief of the Journal of Translational Medicine. He received his MD summa cum laude from the University of Milan and surgery training from Stanford University. His scientific work deepened the understanding of the mechanisms leading to rejection of tumors or transplanted organs by the immune system and development of autoimmunity. This is his first non-scientific publication.