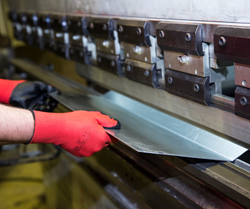 Many fabricators have no systematic, scientific way of estimating labor hours...which can lead to drastic inconsistencies in their quotes.
WEST SPRINGFIELD, MA (PRWEB) July 30, 2014
MTI Systems announced today that three US fabrication shops have chosen to implement their Costimator® cost estimating software to help them increase their speed, accuracy, and consistency during their critical sales and quoting processes.
Yetter Manufacturing, Ad-Vance Magnetics, Inc., and Carver Machine Works are all fabrication companies (fab shops) that specialize in fabricating parts and assemblies out of raw metal materials such as carbon, stainless steel, and aluminum. The main fabrication processes are cutting (sheer, laser, plasma, waterjet), bending (press brake) and assembly (welding, mechanical, electrical).
Manufacturers of all types choose Costimator to help them increase their cost estimating and quoting speed, accuracy and consistency – criteria important for both short and long-term profits and for winning orders. Since 1982, over 1,500 manufacturers worldwide have implemented Costimator®. The cost estimating software supports estimating and quoting of all forms of machining, fabrication, plastic manufacturing, assembly, and more. It is used to estimate all of the time and cost elements associated with the manufacturing of a part or assembly- including machine set-up, cycle time, part handling, and more.
"Many fabricators have no systematic, scientific way of estimating labor hours, instead of relying on the experience of their estimators – which can lead to drastic inconsistencies in their quotes," comments David LaJoie, Product Manager at MTI Systems. "Costimator has formula-driven and time tested cost models that enable estimators to quickly generate quotes that are both consistent, from estimator to estimator, and accurate – which is key to continuously winning profitable business."
About MTI Systems, Inc.
MTI Systems is a world-leader in the development of innovative cost estimating and quoting software that has provided competitive-edge solutions for manufacturing since 1982.
Yetter Manufacturing with more than 84 years of solutions for agriculture is recognized as the leader in the fabrication industry for designing planter attachments, precision fertilizer placement tools, and bulk seed handling products.
Carver Machine Works is an ASME certified fabrication manufacturer and re-manufacturer of equipment and components specializing in Titanium, Hastelloy, Inconel, Stainless, Nickel and various Nickel Alloys. They offer extensive welding capabilities including a full arrangement of standard processes and qualified procedures.
Ad-Vance Magnetics, Inc. is a world leader in solving magnetic shielding problems for the sheet metal fabrication industry. This fab shop manufactures custom fabricated magnetic shields and offers magnetic shielding materials in sheet and foil form.
To learn more about MTI Systems' cost estimating and quoting products, contact David LaJoie at 59 Interstate Drive, West Springfield, MA 01089, call 800-644-4318 or visit the software developers website at http://www.mtisystems.com.