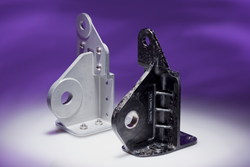 Farnborough, U.K. (PRWEB) July 25, 2014
Greene, Tweed, a U.S. based supplier for the Aerospace Industry and Aerolia, a French Aerostructures Tier 1 supplier announced that they have successfully advanced the use of thermoplastic composite materials for Aerospace structural metal replacement in complex-shape applications previously not suited for composites. The development project was performed under the R&D umbrella of CORAC (Council for Civil Aeronautics Research), which supports research and development efforts in the aviation sector focused on preservation of the environment and sustainable development. The project included material characterization of Xycomp® DLF®, a Greene, Tweed discontinuous long fiber thermoplastic material, part sizing and part testing by Aerolia under various conditions to achieve desired Technology Readiness Levels (TRL) for production applications.
Vincent Labatut, R&T and Stress Engineer states that new composite-intensive aircraft continue to include a substantial number of machined metallic components due to a lack of cost-effective complex-shape composites solutions. Currently Xycomp DLF is able to provide complex-shaped composite parts with part count and weight reduction advantages over simple loaded metal parts, bridging the gap between complex machined metal components and cost-intensive continuous fiber composites layup technologies.
Gereon Schenk, Senior Business Manager at Greene, Tweed explains that the Xycomp DLF manufacturing technology is robust and has demonstrated the capability to produce parts with predictable and repeatable performance with high quality. Weight reduction from Xycomp DLF supports goals of reducing the environmental footprint by reducing fuel use and associated emissions. In addition, the thermoplastic matrix used for Xycomp DLF material permits recycling and remolding use in other aerospace parts.
Production applications for major aircraft platforms are currently under investigation as a direct result of the successful collaboration in this development project.
Aerolia is a French Aerostructures leader and major worldwide player for design and production of complete fuselages, with production of more than 650 noses and fuselage sections and 6 million elementary parts and panels every year for Airbus, Bombardier and other aeronautics leaders.
Greene, Tweed leverages expertise in a variety of markets and products to give customers the most innovative solutions to meet performance challenges and reduce total cost of operation. With fully qualified engineering, sales and support personnel located throughout the Americas, Europe and Asia, Greene, Tweed delivers solutions to individual customer applications on a global scope. Greene, Tweed products are sold and distributed worldwide. For additional information, contact Greene, Tweed at +1.215.256.9521 or visit our website at http://www.gtweed.com