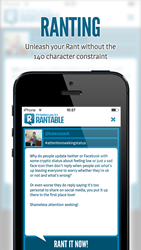 "Rantable will be one of the hot new apps that becomes a sensation. There is no doubt about it." Katherine Kenney, PreApps
Brighton, UK (PRWEB) July 29, 2014
Rantable allows 6,000 characters per rant and shares them on Twitter to reach a larger audience. Instant tangible feedback is given using a 5 star rating system to show what annoys people the most and who is best at delivering rants. Users may even benchmark posts by searching for opinions on similar topics.
"As someone with an analytical background, I found it strangely frustrating that people would seek feedback on their opinions via the Internet but were not always able to gauge the popular consensus," said Andrew Cusack, Founder of the Rantable app.
Users are able to enjoy the 5 star rating system used to give each post a Rant Rating. Based on the average rating and number of votes cast, the rants and users can be organized by the best, worst and most popular. The search features lets users find the subject that interests them at any moment in time. When users are submitting or voting on a rant, the results are automatically tweeted to give maximum exposure and allow comments.
Rantable is available now for free in all territories on the App Store including iPhone and iPad, with Android and multi-language versions coming soon. To celebrate the launch, Rantable is giving away an iPad Air to the best rated ranter at the end of the month. Please visit rantable.com for more information, including videos, screenshots and press kits.
About The Developer:
Rantable was developed by indie developer Andrew Cusack. Rantable is Cusack's first mobile app and was developed to bridge the gap between micro-blogging and tweeting. Twitter is notorious for its 140 character limitations, but Cusack developed a way around that; Rantable allows 6,000 characters and yet still coincides with Twitter. Cusack also believes Rantable is a one of a kind app because it allows for a measuring system to see what other people think of what has been written, something that has never been seen on Twitter. Through Rantable, Cusack believes the app will transform how Twitter is used.