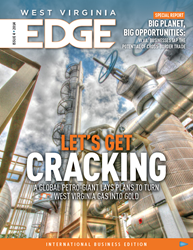 'We've created a positive business climate, coupled with our quality workforce and quality of life. This strategy has attracted more than 150 foreign companies from 30 countries to West Virginia.' - Keith Burdette, West Virginia Commerce Secretary
Charleston, W.Va. (PRWEB) July 24, 2014
More than 150 companies from 30 countries do business in West Virginia. The latest edition of Edge magazine highlights the foreign investments that produce more than 26,000 local jobs in the state, the wide array of products and exports, and the people that make it work.
"Let's Get Cracking" describes the proposed petrochemical complex announced by Brazilian conglomerate Odebrecht and the prospects the huge Marcellus and Utica natural gas formations hold for the state.
"The Smart Money is Heading for the West Virginia Hills" recounts what attracted international companies such as Bombarider, Gestamp and Toyota to invest -- and expand -- in the state.
West Virginia businesses export products such as coal, plastics, chemicals, machinery and components for auto, aerospace and medical applications. In 2013, the state's exports to the global market exceeded $8.4 billion. "Big Planet, Big Opportunity" depicts the services that help the state's small- to mid-size companies enter the world of export opportunities.
Every great deal begins with a great relationship. "Global Business Gets Personal" describes how the state builds and sustains its relationships with Europe and Asia.
These articles and more are available in the fourth edition of Edge magazine, produced by the West Virginia Department of Commerce. Edge magazine is distributed in print to 30,000 individuals, trade associations and businesses, ranging from small to Fortune 1,000. The magazine is available online at http://www.wvcommerce.org or as a glossy 58-page color print version. To request the print edition at no cost, contact West Virginia Department of Commerce, Communications, 304-558-2003.