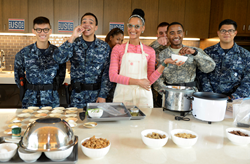 '‪I'm here because I love the feeling of giving back,' said Hall. 'And you feel so good. And meeting some of those wounded warriors and all that they've done for this country, and how selfless they are— so its my opportunity to give back ...'
Arlington, VA (PRWEB) July 24, 2014
Twitter Pitch: @CarlaHall serves up #USOmoments to troops during @the_USO tour to Bethesda, Quantico and Belvoir
Carla Hall, co-host of ABC's popular lifetime show "The Chew," served up comfort and culinary delight alongside troops and military families during a USO tour to Maryland and Virginia July 21 - 22. In celebration of the USO's "Every Moment Counts" campaign, Hall recently wrapped up her first USO tour where she tantalized military personnel and their families with a collection of her trademark dishes.
DETAILS:

During the two-day USO visit, Hall visited with, cooked alongside and drew crowds of more than 344 troops and military families stationed at or receiving care at Naval Support Activity Bethesda, Marine Corps Base Quantico and Fort Belvoir. Complete with a book signing, hospital visit and USO meet & greet, Hall's USO tour also included four specialty cooking classes created exclusively for healing heroes, their families and caregivers.
Hall's moment-filled USO tour kicked off on July 21st with a visit to the new USO Warrior and Family Center on the campus of Naval Support Activity Bethesda - home of Walter Reed Regional Medical Center - which officially opened its doors on April 1, 2014. While onsite, Hall toured the more than 16,000 square foot facility and hosted a "Parent & Child Cooking Class" in the center's state-of-the-art communal kitchen.
The USO Warrior and Family Center at NSA Bethesda is the second USO center of its kind in the U.S. and is strategically located adjacent to the wounded warrior barracks, making it more convenient for wounded, ill and injured troops and their families to get support during their recovery process.
Hall spent the following day at the USO Warrior and Family Center at Fort Belvoir, where she hosted another "Parent & Child Cooking Class," a "Junior Chefs Cooking Class" for military kids 13 years of age and under as well as a "Single Service Members Cooking Class" to encourage them to get back into the kitchen. Each class was designed to encourage learning, create a social atmosphere to aid with the recovery process and help boost family connection.
Like its sister center, the 20,000 square foot USO Warrior and Family Center at Fort Belvoir, also supports wounded, ill and injured troops, their families and caregivers as well as local active duty troops, reservists, members of the National Guard and their families. This center opened in February 2013 and serves as a place where families of our wounded, ill and injured troops can get together, reconnect and make the necessary transitions to service or civilian life.
The USO of Metropolitan Washington-Baltimore operates both centers, with additional support from hundreds of dedicated volunteers
Hall is co-host of ABC's "The Chew" and is best known as a competitor on Bravo's "Top Chef." She is also the owner of Carla Hall Petite Cookies, an artisan cookie company; a graduate of Howard University and L'Academie de Cuisine in Maryland; and an author – having published her second cookbook Carla Hall's Comfort Food: Favorite Dishes from Around the World in March 2014. A long-time resident of Washington, DC, Hall fell in love with food as a young child – cooking alongside her grandmother in Lebanon, Tennessee. Prior to whipping up some of today's most delectable dishes, she spent several years as a fashion model on the runways of Paris, Milan and London.
More than 40,000 troops have been visibly wounded in the conflicts in Iraq and Afghanistan, and some estimate more than 300,000 troops are living with invisible wounds, such as post-traumatic stress disorder or traumatic brain injury. The USO Warrior and Family Centers at both NSA Bethesda and Fort Belvoir were built to be an important part of the recovery process for these wounded troops and their families.
To learn more about the USO Warrior and Family Care, a comprehensive, long-term effort that supports our wounded, ill and injured troops, their families and caregivers, and families of the fallen groups, visit USO.org.
QUOTE:
Attributed to Carla Hall:
"‪I'm here because I love the feeling of giving back. And you feel so good. And meeting some of those wounded warriors and all that they've done for this country, and how selfless they are— so its my opportunity to give back in what I do everyday."
MULTIMEDIA:
USO photos: http://bit.ly/1sDf17X
USO video: http://bit.ly/UxFx6P
# # #
About the USO
The USO lifts the spirits of America's troops and their families millions of times each year at hundreds of places worldwide. We provide a touch of home through centers at airports and military bases in the U.S. and abroad, top quality entertainment and innovative programs and services. We also provide critical support to those who need us most, including forward-deployed troops, military families, wounded warriors, troops in transition and families of the fallen. The USO is a private, non-profit organization, not a government agency. Our programs and services are made possible by the American people, support of our corporate partners and the dedication of our volunteers and staff.
In addition to individual donors and corporate sponsors, the USO is supported by President's Circle Partners: American Airlines, AT&T, BNSF Railway, Clark Construction Group, LLC, The Coca-Cola Company, Grand Canyon University, JCPenney, Jeep, Johnson & Johnson, Kroger, Northrop Grumman Corporation and TriWest Healthcare Alliance and Worldwide Strategic Partners: BAE Systems, BIC, The Boeing Company, ConAgra Foods, FedEx, Lockheed Martin, Microsoft Corporation, Procter & Gamble, TKS Telepost Kabel-Service Kaiserslautern GmbH & Co. KG and Wawa Inc. We are also supported through the United Way and Combined Federal Campaign (CFC-11381). To join us in this important mission, and to learn more about the USO, please visit uso.org.