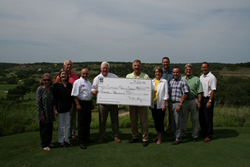 So far this year we have helped 400 combat veterans, and this donation from the Admiral Nimitz Foundation will ensure that we can help more.
Fredericksburg, TX (PRWEB) July 29, 2014
The Admiral Nimitz Foundation held its fifth annual Nimitz Golf Classic on June 6th this year, drawing golfers from all over the country to play in what has become a unique golfing experience at the beautiful and exclusive Boot Ranch in Fredericksburg, Texas. Each year, the foundation chooses another non-profit which helps our military service members and donates a portion of the proceeds raised through the tournament to that organization. This year, the Admiral Nimitz Foundation selected Combat Marine Outdoors Inc.out of Houston, Texas to be the recipient of $14,000. General Mike Hagee USMC (Ret.), President and CEO of the Admiral Nimitz Foundation, said, "We are a small organization and anytime we can move the needle for a smaller nonprofit that helps those who protect this country, then that is what we do." The money will go toward funding hunting, fishing, and camping trips for qualified combat veterans.
Combat Marine Outdoors Inc. was started in 2005 after a visit with wounded Marines, Sailors, and Soldiers at Brooke Army Medical Center. Many of these veterans coming back with war injuries are in for long periods of stay at the hospitals, some being there over two years. Combat Marine Outdoors saw that getting veterans out in a safe environment filled with camaraderie, friendship and fellowship helps them re-inculcate into society. After a hunting, fishing, or outdoor trip, the level of accomplishment these veterans feel is nothing compared to the their new hope and belonging.
Since its founding in 2005, Combat Marine Outdoors Inc. has taken over 1,000 combat veterans on outdoor adventures. "So far this year we have helped 400 combat veterans, and this donation from the Admiral Nimitz Foundation will ensure that we can help more," Rusty Hicks, Executive Director of Combat Marine Outdoor.
The Admiral Nimitz Foundation would like to thank Boot Ranch Golf club for their generous support, and major sponsors Ben E. Keith Co., Silver Eagle Distributors, Mercedes-Benz of Boerne, and Valero Energy of San Antonio. The foundation would also like to thank their generous underwriters.
American Bank of Texas, August E's, Sharon and Mark Beall, Becker Vineyards, Phil Bob Borman, Patrick Brent, Callaway Golf, Cameron-Brooks, Inc., Jim Cauthen & Sons, Ltd., Jerry Conatser, Debbie Courtney, Diageo Liquors, Mr. & Mrs. Carson Dickie, Duecker Construction, Inc., Bill Dunn Construction, Inc., 5 Toes Customs Rifles, 4ip Technology & Media, Fredericksburg Art Gallery, Frost Bank of Boerne, Fund Raising Strategies, Inc., Garrison Brothers Distillery, Dr. & Mrs. Thomas Hamilton, Hill Country Memorial, Hill Country Outfitters, Hill Country Titles, Inc., IBERIA Bank, Inn on Barons Creek, Kingwood Fine Cabinetry, KNS Precision, Inc., Custom Gun Rails, Inc., M.L. Leddy's, Bruce Nichols, Kathy and John Pipkin, Carol Ann Shepherd, Sloan Wealth Management, Hal Sutton, Tanglewood Family Office, Whistle Pik Galleries, Wildseed Farms, Bruce Williams, Champion Plumbing, White Cross Ranch, Edward Jones Financial Advisors of Fredericksburg, Texas Hunt Lodge, Fischer & Wieser Specialty Foods, Inc., Larry Jackson Antiques and Estate Services, Pedernales Creative Arts Alliance, Inc., and 72 Degrees Air Conditioning and Heating
The Admiral Nimitz Foundation supports, operates, and manages the National Museum of the Pacific War which is a Texas Historical Commission property.