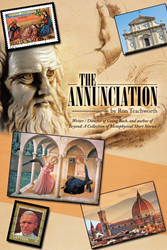 (PRWEB) July 25, 2014
The Annunciation begins in Bucharest during the mid 1990's. The secret, radical and conservative group, the Piagnoni, prepare their surrogate to assassinate Pope John Paul II. In Florence, Italy, a group of religious students from Detroit have joined an Art Restoration Fellowship at San Marco convent, studying and assisting in the restoration of frescos by the famous painter Fra Angelico.
Two young students in the fellowship, seminarian Finn McNelis and Felician sister Olivia Gianetti, fall in love, testing the commitment they made to their Catholic faith. Meanwhile, their most-liked professor worries about new evidence linking Leonardo da Vinci to the discredited Savaronola, a fanatic 15th century friar revered by the Piagnoni. When Pope John Paul ll visits the San Marco convent to view the newly restored Fra Angelico frescos, Finn heroically thwarts the assassination attempt. The Vatican rewards him with an attractive position, and he his forced to make life challenging decisions.
Mr. Teachworth's background is in visual art, film and television. He wrote and directed a feature film, Going Back, for Vestron Pictures. He followed up with a children's book, Two Stones http://www.ronteachworth.net and recently published Beyond: A Collection of Metaphysical Short Stories. http://goo.gl/2W9tQ He has taught at the college level, and currently writes art criticism where he reviews art exhibitions through out the Midwest.
Mr. Teachwoth wrote and directed a feature film, Going Back, starring Bruce Campbell. http://www.goingbackthemovie.com/
The Annunciation is Published by Westbow Press, A Division of Thomas Nelson & Vonderzan http://goo.gl/oydZQP Hardbound, Softbound, E-Book
Kirkus Review - "May appeal to readers who may be interested in—and ready for—Nicholas Sparks."
Catholic Fiction.net - "Mr. Teachworth creates interesting and likable characters, many of them with some depth…the story is well structured, suspenseful, and has a intriguing, believable and satisfying ending." Arthur Powers, Catholic Author of The Book of Jotham