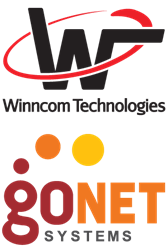 We believe that this relationship will bring great value to our customers with GoNet's unique Beamforming/MIMO Wi-Fi technology.
Solon, OH (PRWEB) July 24, 2014
Winncom Technologies, a value-added distributor of global wireless solutions, has announced a new distribution agreement with GoNet Systems. Through this partnership, Winncom Technologies will deliver its customers GoNet's optimized Wi-Fi solution which harnesses the power of Next Generation MIMO - Beamforming technology. The solution is optimally designed to support the latest Wi-Fi standards including 802.11a/b/g/n and beyond to 802.11ac.
Winncom is committed to staying at the forefront of the global networking industry; partnering with GoNet Systems illustrates this vision while bringing customers the latest technologies to satisfy the growing demand for high-bandwidth wireless connectivity. Winncom is a value-added distributer of wired and wireless broadband solutions and products. Its excellent customer service and forward-thinking business model have earned the company a stellar reputation and contributed to building its network of resellers and integrators to over 8,000 worldwide. Winncom's experience and engineering resources make the company a leader in providing superb pre-sales consulting and post-sales support to its clients. Focused on high-yield solutions and deployments, Winncom chooses to align itself with vendors who share its forward-thinking goals and values.
"We are pleased to welcome GoNet Systems, a world-class brand, to our rapidly growing portfolio of wireless/outdoor Wi-Fi solutions. We believe that this relationship will bring great value to our customers with the company's unique Beamforming/MIMO Wi-Fi technology," said Igor Kurochkin, VP, Global Vendor Management and Marketing at Winncom. "GoNet's reputation precedes itself as a dynamic company with a strong presence in the 3G/4G offload arena. We look forward to delivering agile solutions that provide our customers, both existing and new, with benefits such as optimal interference mitigation, resistance to fading, and higher antenna and array gain."
Aligned with Winncom's interest in offering its customers new and innovative technology, GoNet's Wi-Fi optimized solution employs Beamforming and MIMO technology to combat the ever growing need for Wi-Fi in high-noise outdoor applications. The company's GoBeam access points are optimized for high-bandwidth services such as 3G/4G data offload, video streaming, high-speed data, VoIP and smart grid applications, and are cost-effective for delivering broadband wireless service to a very large client base.
"With the proliferation of smart phones, tablets, and other mobile devices, we are seeing a need, now more than ever, for new and creative solutions to combat the rapid growth in data consumption happening globally," said Merom Harpaz, GoNet Systems. "Equipped with our market leading Wi-Fi digital Beamforming technology both in the 2.4GHz and 5GHz bands, Winncom is optimally positioned to present our solutions to their customer base consisting of VARs, integrators, and end-users alike. We are exceedingly pleased with this new partnership."
About Winncom
Winncom Technologies, a premier value-added distributor, works with leading manufacturers to provide cutting-edge network solutions and premium support services. With a far-reaching, international scope, Winncom remains at the forefront of the global technology marketplace, demonstrating a reputation for quality solutions, a full range of network infrastructure and access products, and a customer-centered business model. The company offers one of the industry's most notable product portfolios along with its scalable solutions, world-class customer service, and outstanding support.
Winncom's extensive experience and engineering resources make it possible to identify, design, and implement the most effective and cost-effective solutions based on a combination of the latest technologies. With its worldwide presence, Winncom is able to provide the highest level of pre-sale consulting and post-sale engineering support to its customers. For more information, please visit http://www.winncom.com and follow us on Twitter: @WinncomTech.
About GoNet Systems
GoNet Systems provides Beamforming Wi-Fi solutions for 3G/4G data offload, Wi-Fi access and enterprise network applications. With superior performance, capacity & noise mitigation, GoNet Systems Next Generation Wi-Fi solutions deliver a superior business proposition for indoor and outdoor deployments. For more information on GoNet's innovative Wi-Fi solution, please visit http://www.gonetworks.com.