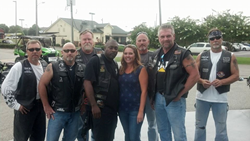 Albany, Ga (PRWEB) July 29, 2014
Easter Seals Southern Georgia and the Viper Unit Motorcycle Club partnered together to help raise funds for one of Easter Seals Southern Georgia's programs called Champions for Children. The Champions for Children Riders charity ride was held all over the state by the 5 different Easter Seals Georgia affiliates to raise funds and awareness for the statewide program. The group met on July 19th at Powersports Plus in Albany where they rode to the Harley Davidson in Tifton and met up with the 2 Wheel Riders, another motorcycle club from Valdosta. A total of 75 riders raised $2,000 for the Champions for Children program. While in Tifton the group enjoyed lunch and door prizes were given away. "We would like to thank Viper Unit, Powersports Plus and Tifton Harley Davidson for their participation and dedication to this event." - Nicki Wilson with Easter Seals Southern Georgia.
Champions for Children provides direct financial assistance and support services for Georgia's medically fragile and special needs children and their families. These families do not qualify for any type of assistance. To read the eligibility guidelines go to http://www.championsforchildrenga.org/about.php.
Easter Seals Southern Georgia creates solutions that change the lives of children, adults and families with disabilities or special needs by offering a variety of programs and services that enable individuals to lead lives of equality, dignity and independence. For more information, visit us online at http://www.southerngeorgia.easterseals.com or call us (229)439-7061.