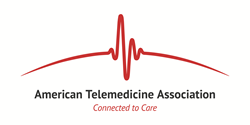 Washington, DC (PRWEB) July 23, 2014
The American Telemedicine Association (ATA) is seeking presenters for ATA 2015, ATA's twentieth annual meeting and tradeshow focused exclusively on telemedicine, telehealth and mHealth. The meeting, expected to attract over 5,000 attendees and more than 250 cutting-edge healthcare technology vendors, will take place May 3-5, 2015, in Los Angeles.
ATA's annual meeting attracts the world's most renowned healthcare technology professionals from researchers, clinicians, hospital and university administrators, program managers and industry representatives. Individuals and organizations pioneering the transformation of healthcare using telecommunications technology are encouraged to submit an abstract.
"Mirroring the exponential growth of the telehealth industry and increasing consumer demand for telemedicine services, this year's educational program will feature enhanced focus on consumer- and patient-focused content," said LTG (Ret.) James Peake, MD, President, CGI Federal, Former U.S. Secretary of Veterans Affairs and ATA 2015 Program Chair.
Successful delivery models focused on patient engagement and the consumer market, such as online direct-to-consumer services and patient portals, will be a hot-topic. A new educational track, Technology and Service Integration, has also been developed in response to rapid advances in healthcare technology innovation.
The ATA 2015 program selection committee is seeking abstracts focused on best practices, cost savings, critical findings and innovative applications in telemedicine. Submissions are now being accepted through Sept. 17, 2014, for presentations with a practical, real-world focus in the following nine overarching topical areas:

Research, Outcomes & Evidence
Business & Economics of Telehealth
Legal and Regulatory
Chronic Disease Management
Technology and Service Integration
Operations and Implementation
Direct-to-Consumer Services
Mobile Health
Clinical Services
Applications will be accepted in a variety of formats: individual oral presentations, panel presentations, how-to sessions, individual ePoster presentations and pre-meeting certificate courses.
For full submission guidelines, criteria, detailed topic areas and to submit an abstract, visit http://www.ata2015.org.
About the American Telemedicine Association
The American Telemedicine Association is the leading international resource and advocate promoting the use of advanced remote medical technologies. ATA and its diverse membership work to fully integrate telemedicine into healthcare systems to improve quality, equity and affordability of healthcare throughout the world. Established in 1993, ATA is headquartered in Washington, DC. For more information, visit http://www.americantelemed.org.