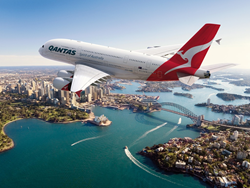 Australian flag carrier launches direct flights 3 times a week to Great Barrier Reef's Airport.
(PRWEB UK) 24 July 2014
Qantas made airwaves in the tourism sector after making its age old Sydney-Hamilton Island route operational on the 2nd of July after a gap of 10 years, following the lead of Virgin, Tigerair Australia and low cost subsidiary Jetstar Airways.
The flights would be operated from Qantas's main hub of Sydney International Airport, taking off on Wednesdays, Saturdays and Sundays for the ongoing peak season. For the off peak season, the direct flights would be struck down to two flights per week, with the schedule to continue for only Wednesdays and Sundays every week. Flights would land at the main Hamilton Island Airport. Qantas will be utilizing its Boeing 737-800s for the route, accommodating 12 Business Class and 156 Economy Class seats per flight.
As a part of its promotional scheme, Qantas also flew the entire star cast and team of the US hit sitcom "Modern Family" featuring three different families adjusting to their social lives. The crew was involved in a two week stay in the area, promoting exotic destinations for vacations.
Qantas's involvement will upgrade the route to all premium level services, providing in-flight meals and checked-in baggage along with business class bookings to the Whitesunday Islands. The schedule, considering both off season and on season frequencies, is expected to contribute 10,000 additional visitors to the region each year. The flag carrier's move is part of a long term plan under the Queensland Government, labeled 'Destination Success'.
The Great Barrier Reef, heralded as one of the natural wonders of the world, is the coral reef system stretching along the coasts of the state of Queensland. The reef is a crucial domestic as well as international tourism region streaming in billions of dollars in the economy. It is host to multiple luxury island resorts, notably the Qualia, Hamilton Island, and the new 'One&Only' Hayman Island, whose launch has been made in phase with the introduction of Qantas' flight.