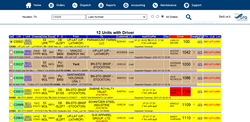 HOUSTON, TX (PRWEB) July 25, 2014
GTG Technology Group, LLC (GTG), an industry leader of providing transportation software, announced that they will be providing three drayage system demonstrations.

July, 31st at 1:30 p.m. (Central)
August 28th at 1:30 p.m. (Central)
September 18th at 1:30 p.m. (Central)
These instructional, hour-long sessions will be led by GTG's industry experts Jessica Bone, Courtney Endsley and Sohrob Parvin.
Jessica Bone is an account executive with four years of transportation industry experience in both operations and sales. Courtney Endsley is a marketing specialist, customer support executive and project manager that maintains all rail and dray rates for customer rate engines. Sohrob Parvin is a customer and IT support manager with over 10 years of transportation technology experience in Drayage, Intermodal and Brokerage operations.
GTG's Drayage Management System provides real-time tracking to all customers to monitor drayage moves to and from rail ramps, ports and shipping yards. GTG's sophisticated tablets, TabNet, help to track arrival and departure times for owner operations through a proprietary web-based system that performs as a driving routing guide.
All GTG demos are free and open to the public. Register for a particular demo by clicking here. All demos will provide the same information and level of detail on each demo for the next three months.
About GTG Technology Group, LLC:
GTG Technology Group, LLC helps to build software to manage global transportation management systems (TMS) for all sizes of intermodal and drayage transportation companies. GTG is dedicated to providing TMS solutions designed to provide end-to-end visibility and connectivity. GTG's software was engineered to help businesses in the transportation industry overcome challenges faster, cheaper and more efficiently.