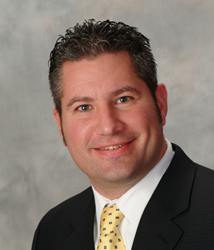 It is my goal to leverage my experiences and accomplishments to bring a new vision and a new voice to the Board.
Cedar Falls, IA (PRWEB) July 24, 2014
Michael L. Frost, CBE Companies' Chief Legal Officer and General Counsel, was recognized for his contributions, initiatives and achievements in the results of two significant announcements during ACA's 75th Annual Convention and Expo in Chicago, IL. Frost was elected to the ACA Board of Directors as well as awarded the MAP Designation.
Frost Elected to the ACA Board of Directors
During the current Council of Delegates meeting Wednesday morning, ACA International's voting members elected Frost as one of five new members of the coveted Board of Directors for the next term.
Frost promised the council members a fresh perspective to the Board that will help diversify their abilities with his unique background and skill set. Frost's stated goals and objectives are to set precedence for ACA International to benefit all members, with a focus on litigation strategy, regulatory affairs, legislative affairs and governance.
"It is my goal to leverage my experiences and accomplishments to bring a new vision and a new voice to the Board," said Frost of his focus as a newly elected member of the Board of Directors. "I'm excited to be a part of this group of industry leaders, and excited for what we can continue to accomplish as a team for the 5,000 ACA International members depending on our leadership."
Frost Awarded the MAP Designation
Later in the conference, Frost was presented with the 2014 Members' Attorney Program Designation. This award once again recognized his contributions to the ACA International program.
"I feel honored to be receiving the MAP designation," said Frost of his award. "I think it is a true reflection of the members' interest in the initiatives and contributions that I bring to the table at ACA and in the debt collection industry. I'm excited by that interest, as I am certain an increased knowledge of and interest in regulation, litigation and governance industry-wide will result in many forms of improvement that will benefit the industry as a whole."
According to ACA International, this award recognizes members who have made outstanding contributions to their units during the past two years. ACA International considers this one of its most prestigious honors, as recipients have demonstrated their commitment to the industry and their communities through ongoing involvement.
In order to qualify for the MAP designation, applicants must meet the eight minimum criteria below. Unless otherwise noted, the criteria are specific to ACA International activity only.
1. A licensed attorney and in good standing to practice law
2. Have a minimum of 10 years of experience as an attorney in the credit and collection industry
3. Currently an ACA International Attorney Member
4. Have demonstrated involvement at the national level for three years
5. Have a minimum of five years of community involvement
6. Have attended three national ACA meetings over the last five years
7. Have noted speaking engagements and/or is published
8. Have advocacy involvement for the credit and collection industry
About CBE Companies
CBE Companies is a global business process outsourcing (BPO) organization and is the parent company of CBE Group, CBE Customer Solutions, and Argent Account Acquisitions. CBE Companies is supported by a leadership team of tenured industry experts. Its workforce of dedicated professionals is quickly growing. As the organization grows, new career opportunities are continually created. The mission of CBE Companies is to make its customers better through:

Focus on the deepest understanding of its customers' business
Innovative solutions that provide clear value in solving specific business challenges
A unique culture and investment in employee engagement
CBE Companies currently employs over 1,200 people in six locations globally. Its corporate headquarters is located in Cedar Falls, Iowa, with additional facilities in Waterloo, Iowa; Overland Park, Kansas; Haverhill, Massachusetts and Manila, Philippines. The organization is consistently recognized as a top five Employer of Choice in the Cedar Valley. It has also been recognized by Workplace Dynamics as one of Iowa's Top Workplaces.