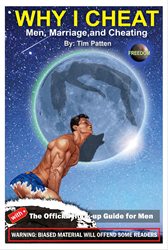 "Men's topics should be openly discussed and people's life lessons should be shared to help other people"
San Francisco, CA. (PRWEB) July 24, 2014
'Misogynist', 'Offensive' and "Chauvinistic" are just some of the words a few readers, reviewers and editors are calling author Tim Patten. Since the launch of his controversial new book Why I Cheat: Men, Marriage, and Cheating, critics have been divided with, on one hand, Kirkus Reviews calling the book a 'Misogynistic Manifesto', while on the other hand, readers on both Amazon and Barnes & Noble calling the book 'A must read for all men … Provocative and Inspiring'.
"Male masculinity and a man's freedom to achieve goals are important subjects that we should not shy away from. Men's topics should be openly discussed and people's life lessons should be shared to help other people," said author Tim Patten. I certainly did not set out to insult, and besides, this is essentially a book of stories based on the lives of real people. It isn't a figment of malicious imagination or fantasy, but actual life stories."
The first sign of disapproval came from the editor Patten hired to prepare the book for publishing.
"She was an excellent editor, but she kept referring to her own experience as a wife and mother, and how she would never abuse her husband, or act as the characters in the book had. But not everyone's life is the same, and the fact that someone else has experienced an abusive wife opens the possibility that there are men out there who are suffering this fate," explains Patten.
A few months later, despite requesting for a male reviewer, Kirkus Reviews assigned a female who evaluated it to be "[Mostly] reflect[ing] only the mores of the sexual revolution" and "a misogynistic manifesto promoting unrestrained male sexual conquest."
"It is obvious that the reviewer took personal offense to the book, and decided on the outcome before she got past the first chapter. I make it very clear in the introduction, disclaimer, and throughout the book, that I do not generalize all women to be abusive, jealous, and manipulative. Of course there are abusive men as well, but those are stories for another day," responded Patten.
Patten concludes: "I am not a misogynist or anti-feminist. There are countless wonderful women in the world, some of which have been a dear part of my life. But I want to speak for the minority, those that are suffering and could do with a bolster in confidence and an injection of inspiration."
Why I Cheat: Men, Marriage, and Cheating is available in hardcover, paperback and eBook formats on iUniverse.com, Amazon.com and at Barns and Noble.