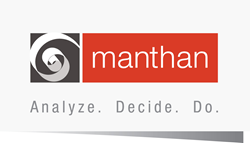 We are entering into a new partnership with Manthan to grow and retain our customer base in today's competitive environment.
Scottsdale, AZ (PRWEB) July 29, 2014
In the competitive grocery market where timely relevant messages are critical, leading regional grocery chain Buehler Food Markets, Inc. will leverage the Manthan Customer Analytics solution to provide critical customer insights and execute one-to-one marketing for all of its retail formats.
"We are entering into a new partnership with Manthan to enhance our ability to grow and retain our customer base in today's competitive retail environment," said Bob Buehler, EVP Marketing and Fresh Goods of Buehler's. "We anticipate Manthan's solution to build upon our existing strength in delivering an exceptional shopping experience characterized by personal relationships based on trust by enabling our team to provide engaging and relevant marketing offers for our customers."
The agreement provides for the implementation of Manthan's Customer360 and TargetOne solutions at Buehler's. Developed specifically for marketers, Customer360 provides marketers with a 360-degree view of the customer, aggregating demographic, transaction and behavioral data collected across multiple retail channels. Marketers can leverage application insights to better understand their customers' preferences and evaluate marketing campaign performance. Customer360 also supports advanced and predictive analytics capabilities, including customer segmentation and churn modeling. Insights delivered through Customer360 provide marketers with the information required to create and review marketing strategies for improved customer engagement.
To effectively execute personalized and real-time offers, retailers must understand their customer base and leverage tools to deliver unique offers by customer or segment. TargetOne features a rules-based logic and patented offer recommendation engine and assists marketers in the delivery of such one-to-one marketing offers. For instance, TargetOne helps retailers apply an ideal cadence of customer communications across a number dimensions, such as customer, channel, product, time and context.
Hillary Ashton, VP of Customer Analytics at Manthan added, "Manthan's Customer Analytics solution helps retailers to connect with their customers on a personal level. With actionable insights from Customer360 combined with TargetOne's support for offer recommendations, retailers can quickly develop and deliver compelling communications to attract new and retain loyal customers easier than ever before. More importantly, our pre-built analytics solution offers rapid time-to-value for the retailer. Given the out-of-the box nature of the solution, Manthan can deliver customer analytics in less than two weeks."
About Manthan
Manthan serves as the Chief Analytics Officer for global consumer industries. Manthan's comprehensive portfolio of analytics products and services enable retailers and their supplier partners to understand and activate the customer's path-to-purchase journey. Architected with deep industry expertise, Manthan's solutions combine advanced predictive analytics, actionable insights and unmatched customer knowledge to help retailers identify and drive incremental growth opportunities. Manthan has provided its business-building analytics solutions to over 120 leading retail and CPG organizations across 19 countries. Visit Manthan at http://www.manthansystems.com.
About Buehlers
E&H Family Group owns and operates fourteen Buehler's Fresh Foods Supermarkets located in Wooster, Orrville, Wadsworth, Medina, Brunswick, Ashland, New Philadelphia, Dover, Jackson Township, Delaware, Coshocton, and Portage Lakes (Green), Ohio and coming to Massillon, Ohio this fall.
E&H Family Group also owns and operates fourteen ACE Hardware stores located in Orrville, Medina, Dover, New Philadelphia, Delaware, Jackson Township, Independence, Rocky River, Westlake, Middlefield, Oberlin, Avon Lake, Garrettsville, and Hilliard, Ohio.
E&H Family Group is a family owned company committed to environmentally responsible behavior. For more information visit http://www.buehlers.com.