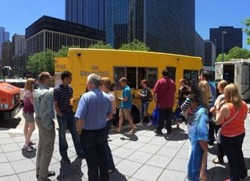 A food truck is a great way to bring together your talent and the consumer.
Pittsburgh, PA (PRWEB) July 24, 2014
Mac & Gold takes comfort food and adds a tasty new twist. All ingredients used are fresh and some locally grown. The most popular food item to kick-start the food trucks success is the Lobster Mac and Cheese. Tassone uses real, fresh lobster claw meat to make a lobster cream sauce which he pours over warmed homemade mac and cheese, and then tops it all off with bread crumbs. Another popular dish includes roasted Brussel sprouts, bacon and caramelized onions mixed with mac and cheese. To add a little more variety to the menu, there are also two to four different specials daily and a la carte menu of veggies and meats.
"Pittsburgh seems to love food trucks," Tim Tassone, owner and operator of Mac & Gold, said in a recent interview regarding the great success and popularity of his business. Tassone knew a great way to spread the word for his upcoming food truck was to first establish and build a strong social media presence. Prior to the grand opening day the food truck had over 1,000 Twitter followers. Just a few months later, the Mac & Gold Food Truck now has over 2,000 followers on Twitter and almost 1,000 on Facebook.
If you are familiar with the food truck industry then it should come to no surprise that establishing a social media presence is vital to the success of your food truck business. Doing so creates a following. Existing and new customers can follow your food truck on a variety of social media forums and receive up to date information on when and where your truck will be located for that day.
With such a popular and positive response from the Pittsburgh community, Tassone has said business couldn't be better. When the truck isn't driving all over visiting different popular lunch spots and corporate parks daily from 11:30am-2pm, the food truck can be found attending local events or catering private parties.
Thursday, July 24th, Mac & Gold will be featured on Pittsburgh's local station KDKA-TV, which is part of CBS Television Stations. The 9am post news show is called "Eat Pittsburgh". In this televised portion of the show about local food the food truck will set up outside the studio and prep some popular menu items. Onlookers will get to see exactly how the mac and cheese is prepped, cooked and then even enjoy a taste test. On Saturday, July 26th the Coffee Buddha in Perrysville will be hosting a food truck roundup. The attending food trucks will be able to park right behind the local coffee shop. Locals and residents from North Hills flock to the scene to try all the food. Don't miss out on these two great events!
After being burned out in the restaurant industry and realizing how costly start- up costs are for a brick-and-mortar, Tim Tassone decided to go to business for himself. "A food truck is a great way to bring together your talent and the consumer," Tassone commented. Operating a food truck enables the possibilities to take the business wherever you want, whenever you want and not being bound to just one location. Besides the mobility aspect and endless scenery options, Tassone also enjoys rotating the specials on the Mac & Gold Food Truck, saying it keeps consumers interested and coming back for more.
A food truck fabrication company located in East Brunswick, NJ, Vending Trucks specializes in custom designing food trucks and mobile kitchens specifically to client's needs. The company targets entrepreneurs and businesses seeking advertising or event marketing needs through the use of a food truck, mobile kitchen or product sampling vehicle. Vending Trucks, Inc. offers custom design options like vinyl wrapping, fabricating, and endless commercial kitchen equipment selections.