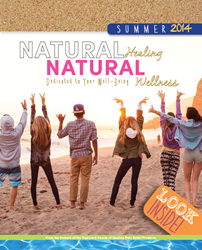 The feature article "Hot Fun in the Summertime," offers tips for staying happy and healthy while catching rays and waves.
Rhinebeck, NY (PRWEB) July 24, 2014
The latest issue of Natural Healing, Natural Wellness is now available to the public online, free of charge. Now in its fifth year and published by Topical BioMedics, Inc., Rhinebeck, NY, makers of safe, natural Topricin pain relief and healing creams, the quarterly e-zine focuses on ways individuals can live healthy, wholesome, vibrant lives. It features informative articles and tips from experts in such diverse areas as nutrition, green living, fitness, lifestyle, reflexology, aromatherapy, dream work, and other disciplines, as well as insights from Lou Paradise, the company's president and inventor of its line of Topricin natural pain relief formulas. The e-zine can be accessed on the company's website, http://topricin.com/common/pagedetail.aspx?PageCode=NHNWSummer2014.
Now that summer is in full swing, the feature article "Hot Fun in the Summertime," offers tips for staying happy and healthy while catching rays and waves.
Columnists and guest contributors include:
-- Elyn Jacobs, who is a breast cancer survivor, professional cancer coach, radio talk show host, and executive director for the Emerald Heart Cancer Foundation. In her "Options for Life" column, she demystifies the flaxseed/estrogen controversy.
-- Annie B. Bond, award-winning author and green living expert, explains the smoke point of cooking with oils and the best ones to use while sautéing, baking, and frying.
-- Massage therapist and aromatherapist Joan Apter provides tips for updating medicine cabinets with essential oils.
-- Radio talk-show host and certified dream work facilitator Doug Grunther discusses the archetype of dogs in dreams and in waking life.
-- Former pro body builder, celebrity fitness trainer, and massage therapist Laurie Towers offers advice for keeping your cool when working out.
-- Roufia Payman, nutritionist at Northern Dutchess Hospital, Rhinebeck, NY, provides healthy food tips and delectable summer recipes.
-- Investigative reporter and international astrologer Eric Francis discusses his life as a horoscope writer.
-- Author, chef, and nutritional counselor/lifestyle coach Alexandra Jamieson talks with author and tapping expert Jessica Ortner on how tapping helps women cope with stress, body issues, and food cravings.
-- "Quickie Chick" Laurel House explains the why's and wherefores of having a perfect "Staycation."
-- "Modern Sage "Leah Guy encourages us to let our hair off the hook
-- "Natural Medicine Woman" and international author Dr. Michelle Schoffro Cook lists Superfoods for the best skin ever.
-- "DailyOM" encourages us to experience summer cloud meditations.
The summer issue also features three special guest columnists. "FoodBabe" Vani Hari, the influential food blogger and investigative reporter, offers tips to help travelers avoid unhealthy airline/airport food and opt for more nourishing choices. Internationally acclaimed French food blogger Clotilde Dusoulier also helps travelers with her advice on how to avoid jetlag. Editor of Healing Lifestyles & Spa and co-owner of Yoga Junction, Melissa Williams reveals the five things one of her favorite food journalists will NOT eat—and why we shouldn't either.
"Any of our publication's articles may be reprinted or excerpted, with proper attribution," says Patricia Martin, managing editor, Natural Healing, Natural Wellness. "We also invite the media and the public to subscribe, free of charge." For more information and to access the current newsletter as well as archives, visit http://topricin.com/common/pagedetail.aspx?PageCode=NHNWSummer2014.
Ms. Martin also reminds the public they are welcome to enter the fourth annual "Where in the World is Topricin" photo contest, with the grand prize a getaway to Cancun, Mexico and a year's supply of Topricin. All contestants will receive a coupon for $5 off any Topricin formula. For details, visit: http://www.topricin.com/common/pagedetail.aspx?PageCode=TopricinContest.
ABOUT TOPICAL BIOMEDICS:
20 years in business and a Certified B Corporation, Topical BioMedics is the research and development leader in topical patented natural biomedicines for pain relief. The company's flagship product, Topricin® Pain Relief and Healing Cream, was introduced in 1994 and is now a leading natural therapeutic brand. A combination biomedicine formula, Topricin has been awarded a patent for the treatment of pain associated with fibromyalgia and neuropathy, was listed among the Top 100 Green Products of 2012 by Healthy Holistic Living.
The Topricin family of natural healing products also includes Topricin Foot Therapy Cream, specially formulated to treat painful foot and ankle issues and conditions, and Topricin for Children, which received the Parent Tested Parent Approved Seal of Approval (with 5% of sales donated to pediatric cancer foundations).
Made in the U.S.A., all Topricin products are federally-regulated over-the-counter medicines with no known side effects, no parabens, petroleum, or other harsh chemicals, no grease, and no odor.
Topricin is available in independent pharmacies, natural food and co-op stores nationwide, including Whole Foods, Sprouts, Pharmaca, The Vitamin Shoppe, Fred Meyer, Wegmans, CVS (Foot Care Section), Walgreens (Diabetic Section), and other fine retailers, as well as directly from the company.
For more information, visit http://www.topricin.com.
THE TOPICAL BIOMEDICS "GET RELIEF, GIVE RELIEF" MISSION
For over 20 years, the Topricin project has assisted hundreds of thousands of people suffering with pain and those addicted to painkillers to achieve fully restored and robust healthy living. Unfortunately, millions of people continue to suffer in pain, with many experiencing the hazardous side effects of OTC chemical pain pills or negative effects of narcotic Rx painkillers—an epidemic that turns the lives of American families upside down and is undermining the very fabric of our country.
Because of the company's experience in addressing these challenges, it has launched its "Get Relief, Give Relief" initiative: for every purchase of Topricin, Topricin Foot Therapy, or Topricin for Children ordered directly from the company, it will donate a tube of Topricin to a credible pain clinic on the customer's behalf…free.
The company invites the public to join its army of pain relief warriors determined to help those in need by ending suffering and painkiller addiction and restoring hope and the joy of living life to the fullest. To "Get Relief, Give Relief," order from http://www.topricin.com or call 1-800-LES-PAIN (537-7246).
###