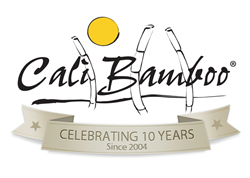 As Cali Bamboo continues to grow, so does the positive impact we're able to have on the environment.
San Diego, CA (PRWEB) July 30, 2014
Cali Bamboo, the leading manufacturer of green building materials for residential and commercial projects made primarily from bamboo, celebrates 10 years of providing the highest quality bamboo products to consumers for their renovation and new build projects.
Founded by CEO Jeff Goldberg and VP Tanner Haigwood in 2004, Cali Bamboo began with bamboo fencing, a delivery van, and the desire to help protect the environment through the introduction of renewable resources as alternatives to everyday building materials. Ten years, multiple nationwide warehouses and dozens of products later, Cali Bamboo proudly retains the same eco-centric mission at its core. "We are humbled by the opportunity that we've had to grow Cali Bamboo over the last ten years. Working to make the vision come to fruition along with an amazing team of dedicated people has been one of the most gratifying experiences in my life," says Mr. Goldberg, Cali Bamboo CEO. "As Cali Bamboo continues to grow, so does the positive impact we're able to have on the environment, which makes it all worthwhile."
Cali Bamboo is the largest bamboo retailer in the U.S. and has evolved their product catalog to include bamboo flooring, composite decking, bamboo plywood, reclaimed hardwood flooring, cork tiles and eucalyptus flooring, in addition to the original bamboo fencing. In late August, Cali Bamboo will be named one of Inc. Magazine's Fastest Growing Private Companies in America for the 6th year in a row.
In celebration of the milestone anniversary, for the first time in the last decade, Cali Bamboo will be offering a site-wide promotion on all products of at least 10% off, running through the company's actual anniversary, August 25th, 2014.
To take advantage of the discounts, or to request a sample of any of Cali Bamboo's sustainable building products, visit http://www.calibamboo.com today.
###
ABOUT CALI BAMBOO
Headquartered in San Diego, Cali Bamboo manufactures green building materials made primarily of bamboo — one of the world's most durable, sustainable and renewable materials. Founded in 2004, the company has become a model of how individuals, businesses and communities can implement modern design while maintaining structural strength and environmental integrity. Cali Bamboo services residential and commercial building projects across North America with a wide range of products including bamboo flooring, fencing, composite decking, plywood, cork wall tiles, poles, paneling and more. For more information, visit http://www.CaliBamboo.com.