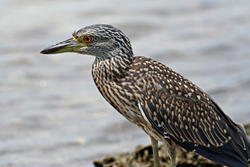 They are very large birds, and they make a very big mess. We have an issue, but we don't know how to go about solving it.
Chicago, IL (PRWEB) July 24, 2014
"Who would want to repel birds?" is a question Bird-X gets a lot. Herons are nesting on buildings in Lindenwood – causing all kinds of problems for residents (New York Daily News, July 20, 2014). While herons in New York may sound like a relief from the usual pest pigeons, these large birds leave behind unsightly droppings that deface buildings and raise health and safety concerns. Bird-X, humane pest control experts for 50 years, reports on the story.
The NY Daily News reports that locals found herons migrating into the neighborhood a few weeks ago, "believed to be yellow-crowned night herons." They are leaving feces all over buildings, nesting in fire escapes, and destroying air conditioners with their messes. The story concludes that while not all residents dislike the birds themselves, they all dislike the problems they're causing.
The story reports Joann Ariola, president of the Howard Beach-Lindenwood Civic Association, stating, "They are very large birds, and they make a very big mess. We have an issue, but we don't know how to go about solving it."
Bird-X has dealt with herons and other waterbirds in the past. It's very challenging to get rid of herons, egrets, bitterns, and cormorants, but it can be done! In this situation, it's important to point out that these nesting birds are protected by the Migratory Bird Treaty Act of 1918 – neither the birds nor their eggs may be legally disrupted at this point. Just as barn swallows are protected, these birds must be allowed to stay put until the juveniles mature – the birds themselves may not be moved under legal protection.
However, there are many preventative measures residents can take to stop the birds from landing or building future nests in unwanted areas, without harming the birds, and can work to keep them from coming back in the next migratory season.
To protect building ledges, windowsills, bridges, and other areas, installing Extra Tall Bird Spikes (a larger size is needed due to the large size of these birds) or even more effective, Avishock electrified bird track will prevent stray birds from landing. For larger, enclosed areas such as open patios, installing bird netting will physically block any birds from entering an area.
Once the nests have hatched, an extremely effective means to treat the entire area (each unit will cover up to 7 acres) is the sonic HeronBuster PRO, a sound device that scares waterbirds away with naturally-recorded predator calls and waterbird distress cries – including those of herons, egrets, and comorants. By keeping the device randomized to prevent the birds from acclimation, the device can last for many years.
The idea isn't to harm the birds whatsoever, it is simply to make specified areas uncomfortable and uninviting - forcing them to keep to the shorelines, away from human structures. This approach is more effective than poisons or traps in the long run and is an appropriate and humane solution to a very common problem.
Birds are not only annoying and messy, they can also be dangerous to human health. Parasites (mites, fungi, and others) can often migrate from birds, which can cause problems for humans and pets. Moreover, their droppings often contain human-transmissible bacteria - if droppings are allowed to dry out and left in airways, such as when air conditioners are contaminated (especially if it is so bad they are actually breaking), bacteria, fungi and viruses including E. Coli, Histoplasmosis, and other potentially very serious contaminates may be inhaled by people directly, or enter the food chain by contaminating cooking surfaces and food.
Bird-X, Inc. is the leading brand of humane pest animal and bird control products worldwide since 1964, and is dedicated to protecting human health, wildlife and the environment in which we all live. The Chicago-based company manufactures a complete line of unique pest control products with an unmatched focus on quality, efficacy, and customer service.