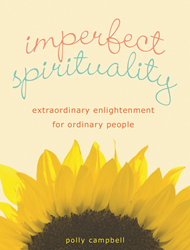 "Read from start to finish, or open anywhere for a dip. Her words reach out...and touch your heart."—Mary Anne Radmacher, author of Live Boldly
(PRWEB) July 24, 2014
Unity Radio's The Soul-Directed Life interviewed Polly Campbell, author of Imperfect Spirituality: Extraordinary Enlightenment for Ordinary People, on how to cultivate spiritual well-being in the midst of a stressful, busy life.
Host Janet Conner conversed with Campbell about hands-on, easy ways to find calm even during anxiety-producing life events.
More About Imperfect Spirituality (also available in audio)
Imperfect Spirituality is filled with practical tips and dozens of examples, as well as anecdotes from real people who are striving to grow both spiritually and personally. Each chapter features fascinating research about how the mind-body-spirit-connection really works as well as illuminating quotes, and informative, easy-to-do takeaways from leading-edge academic and spiritual experts. Popular blogger and workshopper Polly Campbell, a favorite journalist for Daily Om and Psychology Today, emerges as a fresh and important new voice in spirituality who offers a path to wisdom everyone can take each day.
Polly Campbell is a writer and speaker specializing in personal development and spirituality topics. Her work appears regularly in national publications, and she is a blogger with Huffington Post, teacher for Daily Om, and at Imperfect Spirituality. For more than two decades, Polly has studied and applied the techniques she writes and speaks about to her own life. Polly and her family live in Beaverton, OR.