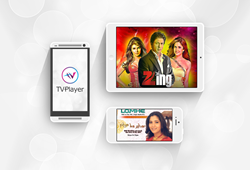 London (PRWEB UK) 24 July 2014
Zing is the number one British Asian Bollywood Lifestyle channel in the UK offering an exciting mix of shows. With local shows, Bollywood entertainment, movies, drama and music, its essence covers an innovative blend of programming. Last month, the channel ranked as top third channel in the South Asian TV market, with a monthly reach of 1,048,000 in June (Source: BARB). TVPlayer audiences can now enjoy regular Bollywood updates on 'Zing Bollywood Now', 'Bollywood Life', and 'Bollywood Business', get the UK's take on Bollywood with 'Brit's Bollywood', as well as catch the latest glamour trends on 'Trendsetters'. Viewers can also get up close and personal with Bollywood celebrities on 'Fanography'' and lots more.
Lamhe is ZEE's latest addition to its bouquet of channels. It showcases the very best of South-Asian entertainment aimed at viewers who love to watch drama, classic Bollywood movies as well as lifestyle programmes. Viewers can enjoy award-winning shows such as 'Astitva (Identity)' and 'Kasamh Se' (Promise), as well as culinary highlights with 'Great Chefs of India'.
TVPlayer launched its DESI pack to cater for the growing popularity of South-Asian channels such as Zing and Lamhe. As part of the licensing agreement, TVPlayer has obtained live streaming, catch-up and network PVR rights in advance of a platform wide update scheduled to launch later in the year.
Neeraj Dhingra, CEO, Europe: "ZEE entertains 700+ million viewers across 169 countries. Our channels Zing and Lamhe offer a distinct set of programmes that differentiates them from others in the market making them a great addition to TVPlayer platform. The content on both is aimed at a wide cross-section of the audience of all age groups and we are making it accessible across various types of platforms."
Lewis Arthur, Platform Manager of TVPlayer, says, "Zing and Lamhe have a huge fan-base in the UK and we are excited to provide another platform for their users to view great Bollywood shows and the best of Drama through these channels. Our DESI pack has been popular since we launched on TVPlayer, indicating the consistent and growing demand for this content in the UK."
About TVPlayer:
TVPlayer is an OTT platform launched in the UK by Simplestream, which streams live TV across multiple devices from some of the UK's favourite free-to-air broadcasters.
About ZEE Entertainment:
Launched in 1995, Zee Network, UK was the first South Asian Entertainment Network of its kind. Since then it has grown in popularity and become synonymous with South Asian entertainment. Zee has continually entertained and engages audiences with a unique blend of high-quality, localised and innovative programming. It also offers the world's largest Hindi film library, with an option of English and French subtitles. Worldwide Zee reaches 169 countries and more than 700 million viewers through a global entertainment network.
Zee is amongst the largest producers and aggregators of Hindi and other South Asian regional language programming in the world. With its commitment to meet audience needs, it has brought five entertainment channels to the UK viewers.
About Zing:
UK's No.1 British Asian Lifestyle Channel featuring playlists comprising local shows, Bollywood hits and classics, British Asian music and Asian music videos, Bollywood movies, behind the scene shows and lots more. Available on Virgin Media 813 and free on Sky 789 and Freesat 663. Also available on your mobile on Yamgo TV. The Zing website also hosts the latest Bollywood news and gossip http://www.zingtv.co.uk, with the latest info also on the Zing TV UK Facebook and Twitter pages.
About Lamhe:
Showcasing only the best of South-Asian entertainment, with classic Dramas, path-setting Bollywood Classics, plus lifestyle, travel, cookery and more. Lamhe features some of the most popular and award-winning shows, including classics such as Astitva, Saat Phere and Piya Ka Ghar. Available on Virgin Media 811 and free on Sky 798. Also on Freeview channel 53 in the Manchester region. Available on your mobile on Yamgo TV.
###
Media Enquiries:
Marie Ellis, Marketing Manager, TVPlayer, marie(dot)ellis(at)tvplayer(dot)com | T: +44 (0)7780 995080
Connect with TVPlayer:
Web: http://www.TVPlayer.com Twitter: @TVPlayer #TVPlayer Facebook: TVPlayerUK