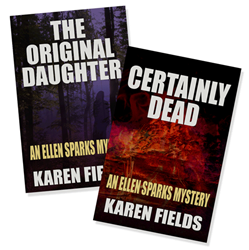 My goal is to write a mystery that makes you smile a little — and think about things that you might not have considered before.
San Diego, CA (PRWEB) July 28, 2014
When Karen Fields works with the clients of her consulting firm, Learning-Dynamics, she focuses on their requirements, specifically on finding the best way to teach employees to do new things.
So, how do you combine entertainment with murder?
Well, you start with Ellen Sparks, whose occupation is "Employee Relations Director," in a San Diego biotechnology company. Ellen's extended family consists of her 13-year-old niece, her best friends—a gay couple that owns a bakery, and her newly acquired boyfriend— a homicide detective. Between her responsibilities at work and the trials and tribulations of the people closest to her, Ellen finds herself in a myriad of interesting situations. And then of course, there are those pesky dead bodies that she somehow seems to stumble upon from time to time.
Ellen has a sixth sense for what makes people tick. This is one of the reasons she loves working in Human Resources, but it's also why she is able to see patterns in seemingly random occurrences that help her figure out who the bad guys are. During the course of the novels, Ellen transforms from a shy, follow-the-rules corporate citizen, into a take-no-prisoners crime fighter.
Read an Ellen Sparks novel and you'll find new appreciation for the cozy mystery genre. Available from Amazon, in eBook or Paperback
BOOK 1 - The Original Daughter: http://www.amazon.com/dp/B00LLNFDVQ
BOOK 2 - Certainly Dead: http://www.amazon.com/dp/B00LLOTHQM
ABOUT THE AUTHOR:
Karen Fields has spent over twenty years working in the human resource and employee development departments of large corporations. Presently, she is the owner of Learning-Dynamics, LLC, a consulting firm that provides training solutions for large and small businesses.
MEDIA CONTACT:
Craig Deutsch
Phone: (619) 787-8995
E-mail: cdeutsch(at)gmail(dot)com
REVIEW COPIES AND INTERVIEWS AVAILABLE