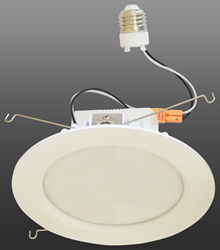 "This is the best LED Retrofit kit on the market today in terms of total value, hands down." - David HumphreysI Retrofit America
Medley, FL (PRWEB) August 01, 2014
Both the 4" version and the 6" version come in a high output version. The 4" retrofit kit is designed to replace a 50W lamp, and is available in 2700K, 3000K, 4000K, and 6000K color temperatures. The 6" high output model is 18W, and will effectively replace up to a 90W Halogen PAR38 lamp which is the de facto standard in the 6" residential Hi-Hat market. The light output is much higher than anything offered in Big Box stores at an impressive 1150 lumens.
DauerLED also offers a less expensive 13W version of the 6" can which is specifically engineered to compete with lower output offerings available in Home Depot, Lowes, and other retail outlets. This more cost effective model still puts out more light than comparable offerings at 800 lumens. The light output is comparable to a 65W BR30 lamp which is used in many residential installations with lower ceiling heights.
The big advantage to the contractor, installer, or user is the perception of value compared to simply replacing the existing lamp. After installation, the perception is that there is a brand new fixture installed, as it looks like a completely clean, new Hi-hat installation with a lens.