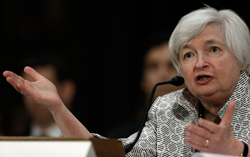 Orange, CA (PRWEB) July 24, 2014
In January 2014, the Federal Reserve announced its plans to end its quantitative easing (QE) stimulus plan by the end of the year. This month, the Fed, under new chair, Janet L. Yellen, confirmed plans to stop QE this October immediately following their discussion at the central bank (Washington Post, July, 2014). Before the financial crisis of 2008 the Fed had less than $900 billion in total bond holdings, loans, and other assets. At the height of the financial crisis in late 2008, it announced its first of multiple rounds of bond purchases that took place in 2010, 2011, and 2012. Each time that the Fed participated in these rounds, it launched new programs due to the economy's lack of performance. The amount of holdings of bonds, loans, and other assets eventually grew to about $4.4 trillion according to The Wall Street Journal, "a level most officials considered out of the question a few years ago" (July, 2014). In 2013, the Fed was funneling $85 billion into bond purchases per month. As of January 2014, the Fed declared that it would reduce monthly spending by $10 billion per month and by $15 billion in October, officially zeroing the program by November 2014.
However, there are still signs that the economy has yet to fully recover from the recession. The Wall Street Journal contends, "the jobless rate has fallen from 7.8% when the Fed announced a round of purchases in September 2012 to 6.1% in June. However, economic growth has continually disappointed. Official measures of inflation have run below the Fed's 2% goal for two years but show signs of picking up of late" (July, 2014). The combination of slow economic growth and a declining unemployment rate has left officials perplexed. In the Semiannual Monetary Policy Report to Congress on July 15th, 2014, Yellen stated that the slow growth of the economy might be attributed to the slow growth "in most measures of hourly compensation". She also commented on the unemployment numbers stating, "the total increase in jobs during the economic recovery thus far is more than 9 million. The unemployment rate has fallen nearly 1-1/2 percentage points over the past year and stood at 6.1 percent in June, down about 4 percentage points from its peak" (The Federal Reserve, July, 2014). Despite the decline and signs of improvement, unemployment has ways to go before it reaches 'normal' levels.
The Fed is nonetheless demonstrating that economic growth and job creation has gained enough momentum to proceed without the stimulus plan. It might not be complete recovery, but with labor market improvement and inflation moving back to normal levels the Fed is now closer to its goals. However, this does not go without a safety net. In Yellen's testimony to Congress, she stated, "although the decline in GDP in the first quarter led to some downgrading of our growth projections for this year, I and other FOMC participants continue to anticipate that economic activity will expand at a moderate pace over the next several years, supported by accommodative monetary policy, a waning drag from fiscal policy, the lagged effects of higher home prices and equity values, and strengthening foreign growth. The Committee sees the projected pace of economic growth as sufficient to support ongoing improvement in the labor market with further job gains, and the unemployment rate is anticipated to continue to decline toward its longer-run sustainable level" (The Federal Reserve, July, 2014).
QE was a controversial program from the start, and it coming to an end marks a monumental point for the Fed. The program was intended to keep long-term interest rates down so investors would be encouraged to back stocks or corporate debt in order to stimulate the economy. Critics of the program say that it helped "Wall Street instead of Main Street" and according to The Guardian, "stock markets have hit highs under QE, yet the unemployment rate remains high and there are continuing signs of weakness in the wide economy" (July, 2014). Many were nervous that QE would lead to another financial bubble or excessive inflation. The Wall Street Journal notes, "Critics have long argued the programs risk causing a financial bubble or excessive inflation, without giving an obvious boost to hiring. Fed officials and other supporters of the program argue it has helped the economy grow faster than it would otherwise grow, with limited risk" (July, 2014). The logic is that the Fed essentially created an 'easy money policy' with QE which can create an asset bubble. The Washington Post is happy to see QE come to an end: "all the more reason to praise the Fed's latest action, which shows that the central bank is aware of its responsibilities to counter speculative bubbles before they get too big — if it can. Financial markets are now on notice that near-zero interest rates won't necessarily last forever either" (July, 2014). The Fed is taking appropriate measures to end a program before it goes on too long, and point out flaws in the economy rather than stating that all is well.
QE has had a major impact on the stock market throughout the program. A few weeks ago, The New York Times drew attention to an idea called "the everything boom", stating that "virtually all major asset classes on earth are relatively expensive compared with their historical values" and hoping that it does not turn into an "everything bubble" (July, 2014). In response to the idea of any sort of bubble forming, Yellen in this month's Semiannual Monetary Policy testimony stated, "While prices of real estate, equities and corporate bonds have risen appreciably and valuation metrics have increased, they remain generally in line with historical norms". This shows that in the eyes of the Fed that there simply is no bubble to worry about. Perhaps the reason being is that the Fed feels comfortable with the outcome of financial institutions should a bubble pop. The Washington Post notes Yellen speaking at a recent Washington speech, "she argued instead for using the Fed's "regulatory or supervisory" powers to make sure that financial institutions are well-capitalized enough to withstand any bubble-popping that might occur…More broadly, the financial sector has continued to become more resilient, as banks have continued to boost their capital and liquidity positions, and growth in wholesale short-term funding in financial markets has been modest." Criticism by the Washington Post article proceeds to state, "In its own way, this approach — like the entire business of engineering a safe exit from quantitative easing — is as unconventional and untested as quantitative easing itself. It suggests the Fed chair aims to limit the damage that bubbles do rather than deflate them in the first place" (July, 2014). It is clear that the spectators are not used to the unprecedented actions of the Federal Reserve. But, Yellen makes it clear that should any bubble pop, it won't bring down the banking system. In other words, no bubble poses as significant of a threat to onset another financial crisis in the United States.
The good news for homebuyers, investors, and lenders is that Yellen made no indication of hiking up interest rates even though QE is coming to an end. Yellen mentions that this would "hamper growth, at least given present conditions", but Yellen does not let this go without stating risk associated, "if recent labor market trends continue, it may mean that the federal funds rate would be raised sooner than currently expected. The testimony does not change our Fed forecast, but it does support our view that there is a risk that the first rate hike may occur sooner than our June 2015 forecast if the labor market continues to improve faster than the Committee expects" (The Federal Reserve, July, 2014). QE has allowed interest rates to remain low, but Yellen wants it to be clear to everyone that rates won't stay low forever, and that it will do what it can to keep them low until the economy exhibits more growth through stimulating borrowing, lending, spending, investing, and hiring.
Despite QE coming to an end, the Fed is not going to completely give up its control over interest rates. The Monetary Policy will be both uncertain and conditional, but will be present to provide a backbone should interest rates climb too high and hinder additional growth. There are risks out there, but nothing that should alarm anyone, based on Yellen's testimony. The book is now being closed on a controversial chapter by the Federal Reserve, and all parties seemed poised to find out what happens next.
Broadview Mortgage values the opportunity to educate consumers to understand which direction that their current or future mortgage is taking them in. If you have any questions about the information herein, feel free to reach out to the Author, Brittany Williams, at Brittany.williams@broadviewmortgage.com . If you would like a quick pre-approval click here, and for assistance with down payment or buyer assistance, click here. You are also always free to give us a call toll free at (855) 692-7623.
Since 1988, Broadview Mortgage has distinguished itself through honest business relationships with clients, loyalty to employees, and commitment to empowering and educating those communities. Broadview Mortgage is a mortgage banker and direct lender made up of loan officers with years of experience in the firm and sheer excellence in customer service. The firm works to explore several financial solutions from which it's clients may choose. Business is initiated and conducted on a word-of-mouth basis. Broadview Mortgage is a delegated underwriter for the Federal Housing Administration (FHA), the Veterans Administration (VA), and the Federal National Mortgage Association (FNMA). Broadview is also approved to participate in several state, county and city programs for First Time Home Buyers.
# # #