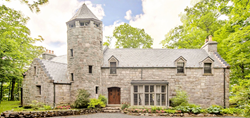 Our Interluxe team is proud to showcase this manor to our wide network of potential buyers. Our sales process is transparent and our marketing team understands the luxury market. - Scott Kirk, Founder and President of Interluxe
Charlotte, NC (PRWEB) July 23, 2014
Hiking, whitewater rafting, fishing, golf and other activities make Banner Elk, NC a popular destination for outdoor enthusiasts. In the winter, skiing and snowboarding are the main leisure activities in the area at nearby Beech Mountain and Sugar Mountain. Now one of the most remarkable homes in this attractive recreation spot is going up for grabs in an online auction. Previously listed for $1.49 million, this one-of-a-kind mountain estate is being offered to the highest online bidder beginning Monday, July 28th, 2014.
This remarkable 3 BD, 4 BA home features masonry stone fireplaces in the living room, family room, master bedroom and the guest bedroom. Every bedroom feature en suite baths, and there is another full bath on the main level. The kitchen was recently renovated and now has an AGA natural gas range and gorgeous granite counters. A full bar with copper countertops, wine cooler and abundant storage opens to the dining area. Numerous interior and exterior photos of the property are available online at: Banner Elk Mansion.
Scott Kirk, Founder and President of Interluxe, said, "As the saying goes, 'A man's home is his castle.' Well, this manor is an exceptional castle-like home, complete with an actual 4-story turret, in the splendid NC Mountains. Our Interluxe team is proud to showcase this manor to our wide network of potential buyers. Our sales process is transparent and our marketing team understands the luxury market."
The outside of the home is just as beautiful as the interior. The estate offers a picturesque view of Grandfather Mountain, an 8+ acre estate tract offering an abundance of privacy, a slate roof, and a level yard area with space for a garage or guest quarters. The home is located in the heart of the Tynecastle Community, convenient to a grocery, pharmacy, retail shops and fine dining.
The online auction starts on July 28th, 2014 at 11:00 A.M. EDT in cooperation with Emily Bish of The Sterling Company in Banner Elk. In-person previews of the home are available during one of the pre-scheduled viewing times or by appointment. Bidders can call or click for the preview schedule or to obtain information about how to take part in the auction. Agents are fully encouraged to participate and cooperating brokers will receive commissions.
Interluxe is the premier platform for online luxury property auctions where motivated sellers, dedicated agents, and discerning buyers connect to do business on their own terms. The firm specializes in the auction of luxury properties worth $750,000 or more and also offers "a la carte" marketing: home sellers choose from multiple tiers of marketing services to ensure their property stands out to as many qualified buyers as possible. Every seller gets exclusive access to Interluxe's database of over 100,000 luxury homebuyers and over 1.5 million listing agents. The result is that agents and sellers get their individual marketing needs met through completely customized promotions. If you or someone you know can benefit from Interluxe's exclusive new platform, unmatched database, and first-class marketing and promotion, contact them at (888) 415-LUXE or http://www.Interluxe.com.