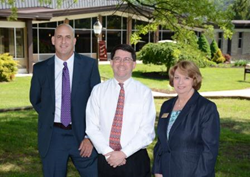 "They [students] know that it's important to me that they succeed," Marafino says. "I always try to bring a positive energy to the classroom."
Cumberland, MD (PRWEB) July 31, 2014
Matt Marafino, professor of English, has been recognized as Allegany College of Maryland's outstanding faculty member for 2014.
Marafino received the Sanner Award for Outstanding Teaching, which is based on teaching excellence, guidance to advisees in pursuit of their goals and demonstrated human relationship skills.
Faculty members submit nominations for the college-wide award, and selection is made by the Faculty Status Committee, a peer group that represents ACM's more than 100 full-time faculty members.
Marafino joined the tenure-track faculty in 1995 as only the second full-time instructor at ACM's then recently established Pennsylvania campuses in Bedford and Somerset counties.
In his two decades with the college, Marafino has earned a reputation for putting students first, both in and outside of the classroom.
He wins high marks from students who appreciate the comfortable atmosphere he creates in the classroom, the enthusiasm he brings to his teaching and the concerted efforts he makes to help them learn.
"They know that it's important to me that they succeed," said Marafino. "I always try to bring a positive energy to the classroom. Even though there is work to do, we're going to have a good experience."
Marafino, who believes wholeheartedly in the community college as a place for all to benefit, says it's important to meet a diverse student body, ranging late teens to late 50s, where they are.
Aware of the apprehensions some may harbor about whether higher education is for them, or whether they can balance college work with other demands in their life, Marafino is a confident, reassuring presence.
"I tell them they are supposed to be here and that they are in the right place," he says. "I want them to be comfortable."
Marafino has a long-held commitment to education. As the son of educators, he early on chose teaching in high school or college as a career goal.
But as his parents taught in a community college, he favored that setting. "I knew exactly what I was getting into," he explains, "knowing the community college mission and its focus on students."
Marafino prepared for his future career at Georgetown University, where he earned bachelor's and master's degrees in English. He also acted on another great interest – theater -- by participating in the Drama Society.
It was in that circle that he met his future wife, Teresa Stoughton. Her father founded the Mountain Playhouse at Jennerstown, Pa., in 1939 as a complement to the restaurant he began 12 years earlier.
After returning to her native Laurel Highlands, Teresa resumed work in the professional theater and is today its executive producer.
Matt Marafino joined ACM as its Pennsylvania operations were expanding in newly established bricks-and-mortar campuses in Somerset and Everett.
He has had much to do with their success, including 17 years of travel to the Bedford County Campus to teach English and speech courses.
An advocate of instructional technology, he was a pioneer in teaching distance-learning classes, which expand educational opportunity by sharing resources among ACM's three campuses.
He serves as a co-trainer and mentor for other teachers in distance learning, conveying to them best practices in that environment.
Marafino also was an early adopter of Web courses, which offer students the flexibility of learning at home by way of content posted online and instructor interaction by email.
Of course, it is the classroom setting that enables Marafino to take full advantage of his background in theater.
He believes the presentation and interpersonal skills he developed there help him to reach students more effectively.
This extends to the approximately 50 advisees that he carries each year, among them all Somerset County Campus students interested in criminal justice.
"We have a real chance to change their lives in a positive way," he says. "The difference we can make is huge."
Student evaluations corroborate his impact, including praise for his good humor, his knack for making subject matter interesting and enjoyable, and his accessibility and personal attention before and after class.
Marafino is also recognized as an influential presence at the college outside of the classroom. He has worked to advance the Somerset County Campus as a presenter in orientations for new students and chair of the committee that plans and presents open houses for prospective students.
He has been a Somerset County Campus Advisory Committee member since 2001 and has served as its chair for the past two years. He also is a member of the Southern Tier Education Council, the entity that bridges both of ACM's Pennsylvania campuses and represents them in Harrisburg.
In addition, Marafino has served on the Faculty Senate and the Faculty Status Committee, both college-wide groups that advance faculty interests within the institution.
Summers allow Marafino time to be involved in the Mountain Playhouse, which this year is celebrating its 75th anniversary season. While he has acted in supporting roles in the past, he has served as the theater's stage manager for the last half-dozen years.
"I get a lot of joy seeing things come together," he said. But much as he likes the opportunity to remain involved in theater, it's clear that teaching is his primary passion.
"I miss teaching by summer's end," he says. "Each August, I am ready to return."
The Marafinos are the parents of three children: Elizabeth, who recently earned a master's degree in theater management at Villanova University; James, a psychology major and rising senior at Catholic University of America; and Michael, who this fall moves from Valley School of Ligonier to Bishop McCourt High School for 10th grade.
-30-