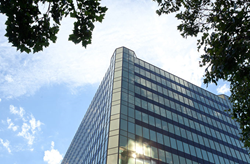 Herndon, VA (PRWEB) July 24, 2014
Leading data center and managed service and IT solutions provider InfoRelay has announced the completion of all router and networking hardware upgrades at its San Jose data center facilities, as of July 23, 2014. These advances will maximise connectivity and performance for customers at both the SJC1 and SJC2 locations. In conjunction with ongoing equipment improvements made this year, Cisco routers were replaced with enhanced Juniper routers to deliver the fastest possible network connections with increased capacity as well as improved reliability.
InfoRelay, established in Herndon, Virginia, a suburb of Washington, DC, provides small, medium and enterprise businesses with data center colocation, network bandwidth, and additional managed service solutions. The latest router improvements installed at both San Jose facilities are part of a grander equipment renovation initiative announced earlier this year. The completion of this refinement replaced older routers with improved high performance routers at its SJC1 and SJC2 data centers. Juniper routers boast the following improved capabilities: increased peering connections, faster CPUs to manage network changes faster, a new total of nearly 100 10g ports, and added capacity to support heavier networking traffic. These critical core functionalities allow for fast adaptation to the rapidly changing networking traffic patterns. Additionally, clients hosting servers in a given San Jose facility will have the ability to cross connect to other network providers more quickly and achieve higher performance from this equipment.
The router upgrades are intended to improve service to clients in the San Jose and surrounding areas. Juniper routers provide increased connectivity through additional 10g, 40g and 100g networking ports. Director of Product Development Josh Abraham explains, "We're excited about the completion of these new upgrades as they will diminish network delays for our clients while at the same time providing higher capacity and faster network speed than they had previously. In addition, the San Jose cross connectivity capability creates additional, inexpensive data transport which we hope our customers will take advantage of. Our ongoing equipment improvements highlight our ongoing commitment to our customers while allowing us to continue fulfilling our guarantee of 99.999% uptime." InfoRelay's router upgrades will span the upcoming year.
For more on this story, or to learn more about the national infrastructure improvements being deployed by InfoRelay, please contact the corporate communications department at 888.919.4774.
###
About InfoRelay Online Systems, Inc
InfoRelay, founded 1995 is a leading national colocation provider with 15 data center facilities across the US. The InfoRelay network is made up of a robust carrier blend, world-class SSAE 16 Type II certified data centers, a portfolio of data center products, a wealth of technical knowledge, and a passionate support team. InfoRelay, an Inc. 5000 Fastest Growing US Company is home to small, medium and enterprise business, healthcare, government entities, and not-for-profit organizations.