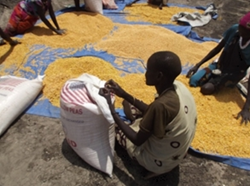 There are already dire warnings from the Famine Early Warning System and the United Nations of a food crisis in the months ahead, so seed delivery is being given top priority.
Phoenix, AZ (PRWEB) July 25, 2014
South Sudan is being ripped apart by escalating violence, with millions displaced and food in short supply. Refugee camps are full of disease—cholera, malaria and severe waterborne disease risks are high for everyone, especially children.
Through several partnerships, FH is currently responding to the needs of more than 9,000 families in areas within Upper Nile, Jonglei and Lakes States that have become a refuge for thousands of displaced families who have fled conflict in Malakal, Bor and other neighboring towns.
With a heightened risk of looting of supplies and attacks on food convoys in the conflict states World Food Programme (WFP) now airdrops food to locations where there is no other means of access, including Ulang County where FH coordinates the distribution.
"For Ulang, things must be done differently," said Steve Houston, FH/South Sudan Relief Manager. "In theory, humanitarian assistance is allowed to cross the lines, and indeed seed is being flown from government-held Juba to opposition-controlled communities. But out in the counties, there have been attacks on convoys, burning of trucks and destruction of food supplies."
FH is especially focused on enabling farmers to increase agricultural production as conflict and displacement has disrupted the harvest cycle. With hopes of avoiding further exacerbation of food insecurity, FH is distributing crop (maize, sorghum), pulse (beans, groundnuts) and fast maturing vegetable seeds, as well as agricultural tools for farmers through partnership with the Office of Foreign Disaster Assistance (OFDA). In order to address the immediate needs of vulnerable families, FH is distributing food packages in partnership with WFP that include cereals, pulses, oil and salt.
"There are already dire warnings from the Famine Early Warning System and the United Nations of a food crisis in the months ahead, so seed delivery is being given top priority," said Houston.
FH is also working in partnership with OFDA to increase access to potable water, sanitary latrines, hand-washing stations, household washing basins, soap and jerry cans, as well as promoting hygiene messages to help prevent the spread of disease.
With child-protection and education a high priority, FH also provides training to teachers on psychosocial support to children in conflict, and is engaging in peace education among community leaders, including the church, which includes lessons on peace, gender equality and children's rights. Additionally, temporary learning spaces in areas with high concentrations of displaced families are being built by FH in partnership with UNICEF's Education in Emergencies program, which can accommodate over 1500 students to date.
"Food for the Hungry is committed to working in South Sudan because there are people in need and we can help them," says Yves Habumugisha, FH/South Sudan Country Director. "We can walk alongside them to find solutions, to restore dignity and hope in these communities."
Background:
On December 15, 2013 violence between South Sudanese government and oppositional forces broke out in capitol city, Juba, quickly spreading to other parts of the country and forcing many existing relief agencies such as Food for the Hungry (FH) to temporarily suspend services. With 1.3 million people displaced and four-million facing acute food insecurity, the conflict's impact on civilians remains critical despite official agreements to stop conflict in January. During the peak of the conflict FH offices in Bor and Malakal were looted of virtually all assets and supplies.
Founded in 1971, Food for the Hungry provides emergency relief and long-term development programs with operations in more than 20 countries to help the world's most vulnerable people. Learn more by visiting http://www.fh.org. Social connections include http://www.facebook.com/foodforthehungry and http://www.twitter.com/food4thehungry.