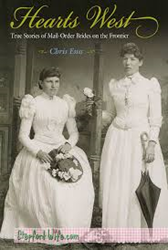 WANTED: A girl who will love, honest, true and not sour; a nice little cooing dove, and willing to work in flour.
Santa Fe, NM (PRWEB) July 27, 2014
As part of the new Night Life Economy Grant sponsored by Mayor Gonzales earlier this year, For Giving Productions Theater Ensemble is teaming up with Vincent Kadlubek, winner of the grant. The purpose is to create new and exciting events in hopes of bringing Santa Feans, in particular young Santa Feans back to the downtown area. Kadlubek came up with a unique idea to provide all kinds of entertainment in all kinds of unusual venues around the Plaza. He calls the three-night weekend Night Wave Santa Fe.
"Hearts of the West" brings to life true stories of mail-order brides of the Gold Rush era. The stories have always held a mystique. Some found soul mates; others found themselves in desperate situations. Complete with the actual hearts-and-hands personal advertisements that began some of the long-distance courtships, with some letters directly from the Santa Fe New Mexican.
"When Vince asked us to be a part of Night Wave, we jumped at the opportunity to collaborate." Even though Davidson has another show running at Warehouse 21 (Slowgirl) on the same weekend, she did not want to miss the chance to help promote nightlife in Santa Fe. "This show adds entertainment for all ages so we brought it out of our repertoire but with an added twist for the Night Wave audience." The twist? After the Friday performance, Davidson found a real Harvey Girl to share her experiences. La Fonda in Santa Fe was one of the famed Harvey Houses, started by famed entrepreneur Fred Harvey. According to the ABC Library, "The Harvey Girls became not only a famous feature of the Fred Harvey chain, but their standards for cleanliness and decorum are credited as having a civilizing effect on the often rough customers in "the territories." They not only helped civilize the Wild West but also populate it, as thousands of "the Girls" married their bachelor customers and settled down in the West." Davidson's ensemble had a successful showing of "Hearts" during "Art Matters|Santa Fe" last February. "We were unable to have our Harvey Gal, Bonnie Ellis, attend last time, so this is very exciting."
The stories tell of the huge emigration of men to the western United States in the 19th century, which resulted in a disproportionate ratio of men to women in such places as New Mexico, Washington, Arizona and especially California during the Gold Rush. Desperate to strike it rich, thousands of men traveled West to the emerging frontier, where they outnumbered women twelve to one. Only after they arrived did some of them realize how much they missed female companionship. Mail order brides were by no means a new phenomenon during the 19th century and the settlement of the West; there are accounts of settlers of the new world arranging for brides from Europe. But, with the mystique of the Wild West being what it is, there's something exciting and romantic about a woman who travels west, either by ship or over land, to meet a stranger so they can settle amidst new territory and make it their own. Davidson's company will breathe life into those journeys. The ensemble will include Debrianna Mansini, Judith Jones Arute, Christopher Hagen and Craig McAdams.
The performance is based on letters from the books of authoress Chris Enss. Enss is a standup comic and comedy writer with an extensive background in radio and television.
Hearts Of The West: Stories of Mail Order Brides
Aug 1 and 2 at 7 pm
Skylight Lounge
139 W. San Francisco St.
All Ages Welcome
Pay What You Can
Reservations at 505.438.6078 or Info(at)forgivingproductions(dot)com or betbuddy(at)msn(dot)com