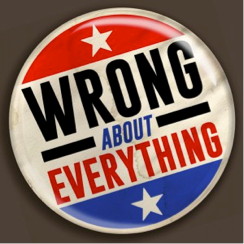 This is the most damn fun I've ever had in politics.
Minneapolis, MN (PRWEB) July 24, 2014
A bipartisan group of five Minnesota political professionals today announced that their new podcast, "Wrong About Everything," has joined with the Tom Barnard Network. The move comes several weeks after the launch of the irreverent political podcast, which features DFLers Javier Morillo and Denise Cardinal and Republicans Mike Franklin and Brian McDaniel, and is produced by the Connolly Kuhl Group's Patrick Connolly.
"We didn't want a true left or right show on the Tom Barnard Network. Wrong About Everything is the perfect fit for the network because you have four people who know what they're talking about and there will be plenty of humor on the show. Welcome to the Tom Barnard Network," said Tom Barnard.
"Wrong About Everything" is a friendly, fun, and irreverent look at Minnesota and national politics. "I've always wanted to convene a small group of politicos and record a discussion that was similar to just a having a beer and sharing some thoughtful banter with friends from the other side of the aisle," said Javier Morillo. "I really wanted to make this idea a reality and reached out to Patrick Connolly, a business-minded Republican, to help produce this concept."
"Even though we may think that the folks in the other party are "wrong about everything" we can still get along, have an interesting conversation, laugh, and maybe just maybe solve some of the mysteries of the universe—like WHY anyone would choose Edward over Jacob," said Mike Franklin. "This is the most damn fun I've ever had in politics."
"In this age of constant sniping, fast-moving attack ads and outright hostility in politics, we wanted to do something different. Heck, this might even be entertaining, but never outright mean. Snarky, but not mean. Or maybe a little mean but funny," said Denise Cardinal.
"I can't believe that I am working with Republicans, and even enjoying it a little."
"I've had fun political discussions with Javier over the years, and now we record our snarky political banter for others to experience our humor and brilliance," said Brian McDaniel. "Incorporating my Republican friend Mike Franklin and the witty DFL operative Denise Cardinal to the mix, has created a competitive bi-partisan balance that Congress could only dream about."
"I'd never thought I 'd say this, but I enjoy spending an hour once a week with a union boss, the most feared DFL operative, a lobbyist, and a competitor," said Patrick Connolly. "Watch out George Stephanopoulos—we will be the new political standard."
Now lets talk talent.
Democrat Denise Cardinal is the founder and President of Cardinal Insight, a communications and consulting firm servicing nonprofits, progressive candidates, causes, and campaigns. She most recently served as the Executive Director of ProgressNow, a 21-state network of communications-centered advocacy organizations known for their smart messaging and tough tactics. She started the Minnesota affiliate, Alliance for a Better Minnesota (ABM) in 2007, which has been widely touted as a national model. During her tenure, she led the organization through the 2010 election that helped get the first DFL Governor elected in Minnesota in decades – one of the few bright spots for progressives that year. Before moving back to her home state of Minnesota in 2006, Denise served for five years as Senior Press Officer for the National Education Association in Washington, D.C. working mainly on the so-called No Child Left Behind Act. She also spent time in our nation's capitol as the Press Secretary for U.S. Senator Kent Conrad (D-ND). She grew up in Stillwater, Minnesota on the St. Croix river across from Wisconsin. And yes, she really does in fact like the cold.
Republican Mike Franklin is a Minnesota Government Affairs professional and attorney with more than a decade of experience in building political and Grassroots networks. Mike knows many sides of Government Affairs as he has organized projects for political candidates, nonprofit organizations, multinational corporations and Grassroots-level community interests. Having served his employers and clients as a fundraiser, lobbyist, communications professional, issue expert, researcher, and volunteer recruiter, Mike has the answer to any and every challenge. Mike is originally from Cloquet, MN, home of the Lumberjacks. He and his wife Amanda live in Jordan, MN where the sun always rises in the east over vast fields of corn. They have two children who are perfect specimens of intelligence, adorability and precociousness. Mike is a Scorpio and his favorite emotion is "whimsy."
Democrat Javier Morillo-Alicea is the president of Service Employees International Union (SEIU) Local 26, which unites close to 6,000 property service workers in the Twin Cities metro area. As president, he leads the organizing, legislative and political activities of the local union representing Minnesota's union janitors and private security guards. He is also recognized in Minnesota as a political strategist and appears regularly on local political talk shows as a progressive commentator. As a leader in the immigrant rights movement, Morillo has stood up to Republican attacks on immigrants in the state, publishing Opinion Page editorials in the statewide newspaper, the Minneapolis Star Tribune. For his work as an advocate for immigrants and immigration reform, he awarded the Progressive States Network's 2008 Progressive Leaders Award for State Legislative Immigration Campaigns. He grew up in Puerto Rico, the son of a military dad and mom who, to this day, push him to succeed. He lives on the West Side of St. Paul with his partner of eighteen years. Mayor Betsy Hodges states,"I know Javier Morillo and he asked me to write a blurb for his podcast. This is that blurb."
Brian R. McDaniel is a Republican and a Chicago Cubs fan. Needless to say, he is familiar with disappointment. Brian is an attorney and Minnesota governmental relations professional working with Franzen Moore Governmental Relations in Saint Paul with over 15 years experience working both inside and outside of the Minnesota State Capitol. Prior to joining Franzen Moore, Brian served as the Director of Government Relations for the Minnesota Department of Employment & Economic Development, Legislative Director to the Speaker of the House, Director of Fiscal Policy for the Minnesota Business Partnership, and Committee Administrator for the House Committee on Commerce, Jobs & Economic Development. Additionally, McDaniel spent 5 years as an appointed member of the Metropolitan Council, was elected by his peers to serve on the Board of the Minnesota Governmental Relations Council, has been published in Hennepin Lawyer magazine, and makes frequent television appearances as a political analyst. Liberal Women and republican Branden Petersen , "Brian McDaniel is like sugar to us!"
The Producer
Patrick Connolly, co-founder and principal of the Connolly Kuhl Group, has more than 15 years of experience in grassroots marketing and mobilization, public policy and media strategies and serves as the producer for the show. Connolly's successful grassroots experience includes work on behalf of healthcare reform for the Mayo Clinic Health Policy Center as well as public policy and community relations efforts for the Rochester Coalition and Southeast Minnesota Rail Alliance. Prior to working at Connolly Kuhl Group, Connolly developed and coordinated targeted and results-oriented grassroots campaigns and outreach events as well as multi-city tours and meetings for his clients. With unabashed zeal, Connolly has garnered coverage for his clients in print, broadcast, radio and digital media outlets. Connolly earned his political stripes in the 2002 Coleman for U.S. Senate campaign as a lead member of the grassroots field team. After Coleman's historic victory, Connolly transitioned his mobilization skills to the U.S. Senate office as a policy liaison for Senator Coleman.
http://www.werewrongabouteverything.com
Twitter: @wrongaboutevery
###