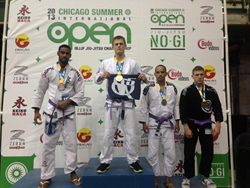 "There is always some of the best competitors on the east coast at these events, and I was very pleased to add this one to the trophy case after all this time."- Devon Delbrugge
New York, New York (PRWEB) July 24, 2014
Devon Delbrugge won all 8 of his matches this past Saturday claiming the gold medal in two weight categories, Middleweight (181.5lbs) and Absolute (Any Weight) at the prestigious New York Open of Brazilian Jiu-Jitsu. He had matched up with a variety of skilled opponents, with nearly half of Devon's bouts were against opponents that had outweighed him, some as much as 100lbs. This was also his first tournament he had ever won in the state of New York, even with competing in events held in the area 4 times a year for the past 3 years.
"It felt great to finally be on top of the podium in New York after all these attempts at winning gold." Delbrugge continued, "There is always some of the best competitors on the east coast at these events, and I was very pleased to add this one to the trophy case after all this time."
In the past year and a half, Delbrugge has made a huge name for himself on the Jiu Jitsu circuit, taking 4 medals at the World Championships and also winning multiple major titles around the world. With the 2014-2015 season just starting, Devon has already begun his path towards another stunning Season, opening up with an outstanding performance in New York.
Devon Delbrugge is an instructor at Crazy 88 Mixed Martial Arts, a chain of gyms in the Baltimore area of Maryland.