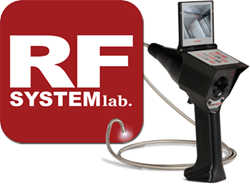 Traverse City, Michigan (PRWEB) July 25, 2014
RF System Lab, a worldwide leader in remote visual inspection and manufacturer of the VJ-Advance, is proud to welcome new customers from the month of July in a multitude of industries. RF System Lab's most recent client list includes companies from multiple industries, including Power Generation, Oil and Gas, Energy, Casting, and Food Processing.
One of RF System Lab's newest customers in the Food Processing industry is MillerCoors. MillerCoors is a leading US brewing company that is a joint venture between SABMiller and Molson Coors Brewing Company. They required a high-quality borescope to complete processed piping sanitation inspections and ensure that their pipes were clean and had no leakage. With a reputation of quality products on the line, MillerCoors needed to make sure to invest in a borescope that could help them complete sanitation inspections with confidence.
Another new VJ-Advance video borescope user is National Mechanical Services. National Mechanical Services, a well-known power generation field service company specializing in generators, heavy rotating equipment and outside machinery repairs, purchased the 6.9mm – 3m VJ-Advance video borescope to assist with power generator service and repair. One notable use of the versatile 6.9mm VJ-ADV is complex stator end winding inspections to ensure that they are not melted or damaged.
RF System Lab is proud to have world leader in superalloy, aluminum and titanium investment casting, PCC Structurals, as a new customer. PCC Structurals purchased the 2.8mm VJ-ADV to take advantage of the benefits that a super-slim articulating video borescope provides. Having the ability to easily ensure that holes in casted parts were not blocked and that internal passageways did not contain any foreign object debris (FOD) after removing the casting mold is crucial to any casting business. For this reason, many casting companies struggle with rigid-style borescopes, so investing in a video borescope with 360 degree articulation and a high-resolution camera with video capabilities was an easy decision for PCC Structurals.
RF System Lab would like to extend a thank you to these new clients, as well as all additional clients not listed here. If you would like to demo the VJ-Advance video borescope, you can sign up for a no-cost, no-obligation demo program. For more information on RF System Lab, please visit our website or call 855-787-6966 to speak with one of our borescope experts about your specific internal inspection needs.