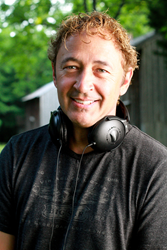 For The Reel Deal we needed a creative director with the vision to see all things at once, and Harvey Lowry has that ability.
Los Angeles, CA (PRWEB) July 23, 2014
The Reel Deal, a multi-platform reality television show that has already made headlines for its celebrity cast including [alphabetically] Dustin Diamond, Holly Fields, Judy Norton, Eric Roberts, Tim Russ, and Don "The Dragon" Wilson alongside host David Chokachi, has just added another heavyweight to its star-studded list of collaborators. Acclaimed producer Harvey Lowry has signed on to direct the bleeding-edge social-media centric reality show in its first season.
Harvey Lowry entered the film industry in 1990 and soon became the President and Director of Operations for one of the largest special effects and film production companies in California. Over the course of nineteen years, he has collaborated on the production, special effects, makeup effects, visual effects, animatronics and/or specialty costumes for over 150 feature films, television shows, music videos, commercials and documentaries. He has independently produced 19 feature films and 13 television shows. Harvey has collaborated on the films The Pirates of the Caribbean: The Curse of the Black Pearl, Alice in Wonderland, A Beautiful Mind, The Passion of the Christ, Hannibal, Big Mommas House and The Watchmen and many others.
His own very successful production company, which he established in 2006, immediately began production on a series of feature films, such as The Curious Case of Benjamin Button and The Watchmen, television shows such as Moonlight and Saving Grace, and many commercials and music videos. As his company continued to grow, Harvey put more emphasis on producing independent films. His success and experience in the indie-film align well with the indie-style of The Reel Deal.
As Adryenn Ashley, the shows Executive Producer and Creator explains, "Harvey Lowry brings with him the ability to manage multiple teams under high stress conditions, creating genius, and all with his zen like attitude that makes his crews love him. For The Reel Deal we needed a creative director with the vision to see all things at once, and Harvey has that ability. I am thrilled he will be directing Season 1!"
Among other unique facets of the reality show, The Reel Deal will film an entire season worth of content in just one week, following aspiring actors, directors, screenwriters, and composers alongside their celebrity mentors in their quest to create award quality short films and subsequently launch the careers of the yet unknown stars.