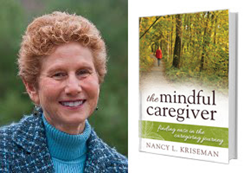 We talk to so many family caregivers with one thing in common, stress.
Edmond, Oklahoma (PRWEB) July 23, 2014
Home Care Assistance of Oklahoma, North America's leading provider of in-home care for seniors, announces the next installment in its renowned Healthy Longevity Webinar Series featuring experts in a wide range of health and wellness-related fields. The upcoming webinar will feature licensed clinical social worker and award-winning author Nancy Kriseman, and will cover the most common causes of caregiver stress and ways to prevent burnout by becoming more self-aware. In particular, Nancy will discuss mindfulness and the spirit-side of caregiving, two coping strategies presented in her latest book, The Mindful Caregiver: Finding Ease in the Caregiving Journey. This webinar will offer real time solutions caregivers can use in their everyday routines to feel more empowered and hopeful. There will be a special focus on how to help caregivers who struggle with unrealistic expectations and have difficulty letting go of how their loved ones used to be.
The webinar will be held on Thursday, July 24th, at 12:00 PM Central. Nancy will reserve the last 15 minutes of the webinar for a Q&A session, so we encourage attendees to come prepared with questions. Space is limited, so make sure to reserve your seat as soon as possible by registering here: http://bit.ly/caregivermindfulness.
"We talk to so many family caregivers with one thing in common, stress," said Melissa Hill, co-owner of Home Care Assistance of Oklahoma. "We encourage caregivers to be aware of their own needs, and nurture mind, body, and spirit -- the basis of our client care model, the Balanced Care Method."
Nancy has a Masters in Social Work and a Specialist in Aging Degree from the University of Michigan as well as a B.A. in Psychology from the University of Florida. As a licensed clinical social worker, Nancy has worked with older people and their families for more than 30 years. She is currently in private practice and presents workshops on caregiving and dementia across the country. As an adjunct faculty member at Kennesaw State University, she taught courses on aging, and death and dying. Nancy's first book, The Caring Spirit Approach to Eldercare: A Training Guide for Professionals and Families, has won national awards from the American Society on Aging, Hunter College and the National Council on Aging.
The premise driving Home Care Assistance's Healthy Longevity Webinar Series is that individuals who are well-informed will make better health decisions, become active partners with their healthcare providers in promoting their own wellbeing and encourage loved ones to also engage in healthy lifestyle behaviors.
For more information about Home Care Assistance, visit http://www.HomeCareAssistanceOklahoma.com, or call 405-285-4191.
ABOUT HOME CARE ASSISTANCE
Home Care Assistance is the leading provider of home care for seniors across the United States and Canada. Our mission is to change the way the world ages. We provide older adults with quality care that enables them to live happier, healthier lives at home. Our services are distinguished by the caliber of our caregivers, the responsiveness of our staff and our expertise in Live-In care. We embrace a positive, balanced approach to aging centered on the evolving needs of older adults.