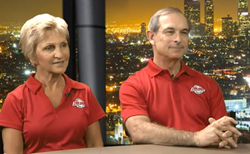 We recognize that without our customers, we wouldn't be where we are today.
Riverside, CA (PRWEB) July 25, 2014
Bud Luppino, the founding owner and operator of 3 tire and wheel stores in Riverside and Moreno Valley, has been selected as a semi-finalist for the "Tire Review Top Shop" award for 2014. The honor is awarded each year to the owner of the shop that best meets several criteria, including outstanding sales, customer service, expertise, appearance, and service to the community.
Luppino, who runs Bud's Tire and Wheel Tire Pros with his wife and business partner, Claudia, is one of 20 semifinalists nationwide being considered for the award. This is the second year he has been nominated for the honor by Tire Pros, Inc., a nationwide affiliation of automotive service centers to which his 3 stores belong.
Luppino served eight years in the Air Force at March Air Force Base in 1977 and immediately took a manager-trainee job with the local tire dealer, Mark C. Bloom. He was recruited to work for BF Goodrich in 1983, which was later bought out by Michelin. In 1995, he left the company to open his first location in Riverside. "People would ask me where they could get their car fixed, and I did find out that there really weren't any places that you could go to and really depend on getting good quality automotive repair service," he said. With that knowledge, Luppino set out with the objective of opening an auto service business that would serve "multiple generations" of families.
His wife and business partner, Claudia Luppino, says that one of the key reasons their business has thrived is because Bud Luppino relates to his customers. "Bud cares completely about his customers and their satisfaction," she said. "People come to our store and know that we are trusted in the community, and if they are not satisfied or have another expectation, it will be met."
That trust in the community is the result of the Luppino family's involvement in several non-profit and charitable causes throughout their local community, including The Arc of Riverside County, U.S. Veterans at March Air Force Base, Adopt-A-School program, and the American Diabetes Association, which recognized Bud as "Father of the Year" in 2012.
"We recognize that without our customers, we wouldn't be where we are today. We're part of a community that's important to us. We love being able to give back. It has nothing to do with money. It has everything to do with doing what's right," Bud Luppino said.
For more information:
Contact: Jeff Allen
jallen(at)socalceo(dot)com
(951)454-2396