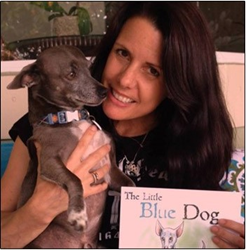 Your purchase of my books goes directly to helping animals in need.
Schaumburg, IL (PRWEB) July 25, 2014
Conversion specialist eBooks2go celebrated its third year of business by holding a month-long (June 9th 2014 – July 9th 2014) Children's Book Contest for the first time in company history. The competition was geared toward authors and writers of illustrated/picture books with the objective being to find the best Children's Book on the market.
The transformation mavens received a plethora of qualified submissions and were amazed with the turnout generated by the event. Upon review, an experienced team of highly-skilled publishing professionals noted several key factors in selecting a winner. The ultimate prize would go to the author whose book:
1. Conveyed Mass Appeal
2. Delivered Eye-Catching Illustrations
3. Possessed Animation Capabilities
4. Spawned Opportunities for Gaming Elements
After careful examination and discussion, the crew at eBooks2go elected what they felt was the personification of a true children's book. The digital renovation enthusiasts were pleased to proclaim that the winner of their 2014 Children's Book Contest was:
"The Little Blue Dog" by Karen J. Roberts
Based on the real life story of Karen's adopted dog Louie, "The Little Blue Dog" is the first book in the LBD series. Roberts enthralling tale compels readers to fall in love with Louie as he displays bravery and faith for a second chance as a shelter dog. A 2013 National Indie Excellence Award Winner, "The Little Blue Dog" promises to be a superb addition to any eReader's bookshelf.
For her part, the renowned children's author will be receiving 3 Fixed Format conversions into Enhanced eBooks (iPad, Kindle, Nook), distribution to all major supporting retailers (iBooks, Amazon, Barnes & Noble), and an eBook App developed for iOS and Android. All publicity, media, and promotion for the winning title will also be handled by the electronic publishing firm.
Karen J. Roberts is the founder, author, and humane educator at The Little Blue Dog. Her books are designed for kids and convey messages encouraging animal kindness and the compassionate alternative of adoption. All proceeds the author earns are donated to pet and animal rescue organizations that she supports and volunteers with. Earnings are also committed to the development of a Human Education Program that instructs individuals, children from age 3 – 13, on a variety of animal kindness and advocacy topics. As well as an Indie Excellence Award Winner, Roberts has also claimed the 2014 Feathered Quill Book Award for Animal/Children's Fiction, and is a Finalist for the 2014 International Book Award for Children's Fiction.
For more information on this writer or her titles, please visit http://www.thelittlebluedog.com or contact the author at louie(at)thelittlebluedog(dot)com.
# # #
eBooks2go, the digital arm of Gantec Publishing Solutions LLC, is a full-service conversion provider as well as a supplier of end-to-end solutions for the digital space. Owned and operated out of Schaumburg, Illinois, the organization strives to make the world of online publishing easy and affordable for independent authors, writers, and publishers.
Interested in digital conversion services? Contact eBooks2go by e-mail at info(at)ebooks2go(dot)net or call (847) 598-1150 to learn more about the company's offerings.