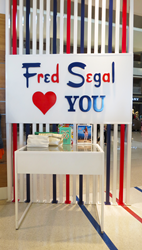 'Nothing says LA like a huge pair of sunnies. We love the latest line from Grey Ant,' says Westfield Style Editor Jill Blackford.
Los Angeles, CA (PRWEB) July 29, 2014
In ultra-cities like Los Angeles, there's no need to pause for run-of-the-mill souvenirs, when innovative boutiques loved by local celebs and Angelenos alike offer such unique ideas. Westfield Travel Collection's two Los Angeles shopping experiences, Westfield Century City and Westfield LAX at the Tom Bradley International Terminal offer ten souvenir ideas to bring home that say "I was there" in style.
At one-of-a-kind Kitson at Westfield Century City, visitors choose from LA-inspired classics and mod new home accessory trends, like vintage-esque highball glasses from CatStudio, and colorful LA map posters by I Lost My Dog. And for immediate use, a beach towel from Sisters of Los Angeles is a must-buy, along with their I Heart LA statement pullover, perfect for beachside lounging at sunset. Break out the very-Angeleno Frisbee for some sand-and-see spirit of the locals.
For the adventurous jetsetter, another new LA favorite is the huge Fred Segal at LAX in the Tom Bradley International Terminal. Alongside right-now luxury brands from around the world, travelers will find local designer offerings, such as Los Feliz-based handbag designer Clare Vivier's patriotic iPad case. Westfield Style Editor Jill Blackford notes, "Nothing says "LA" like a huge pair of sunnies. We love the latest line from Grey Ant." There are also Fred Segal LAX-only exclusives like on-flight snacks in beautifully chic packaging, and The Blend, the shop's make-your-own line of fragrances. Or, to make the boldest of LA statements once home, go for the shop's new LA surfboard (a conversation-starter worth the excess luggage fee). The store offers unique services as well, such as curbside pickup and shop hours until 2 a.m.
For a list of ten travel must-haves for an organized trip, or tips on the perfect summer Little Black Dress, go to Westfield's Style blog at style.westfield.com. Follow Westfield Style at twitter.com/westfieldstyle, pinterest.com/westfieldstyle, instagram.com/westfieldstyle and on You Tube at http://www.youtube.com/playlist?list=PL-xI-y-E2tZ7ujpdlgQiquGZbKMRY20vO. Travelers also find a world of inspired dining options while shopping at Westfield Shopping Centers and LAX in California and Florida. For more information about the Westfield Travel Collection, visit http://www.westfieldtravelcollection.com.