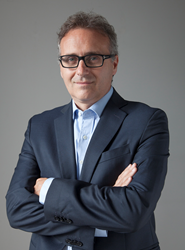 "HomeAway is more than the leading online marketplace for vacation rentals; it is a brand that connects families and friends to share the most memorable experiences of their lives."
AUSTIN, Texas (PRWEB) July 24, 2014
HomeAway, Inc. (NASDAQ:AWAY), the world's leading online marketplace for vacation rentals, today announces the appointment of Mariano Dima as chief marketing officer (CMO). In this position, Dima oversees all global marketing, corporate communications and brand initiatives for HomeAway®.
Dima has 20 years of marketing, product and business development experience across leading companies and industries, including PepsiCo, Inc., Vodafone, Levi Strauss & Co. (LS&Co.) and Visa Europe Ltd.
As former Visa Europe CMO, he oversaw strategic marketing, brand communications, advertising, sponsorships, and insights and analytics. Additionally, Dima managed a product portfolio that included credit, debit, commercial and new payment developments such as e-commerce, digital wallet, mobile payments and contactless technologies.
Dima's seven-year tenure with Visa Europe was punctuated by the company's wildly popular 2012 Olympic-integrated marketing campaign, "Life flows better with Visa," that featured a series of ads including "Running Man" with Usain Bolt and "Flow Faster." Under Dima, the company was also recognized by BrandZ as one of the 10 most valuable brands in the world in 2013.
"Mariano has elevated some of the world's most recognizable brands," says Brian Sharples, chief executive officer of HomeAway. "As our industry continues to grow, he has the experience and passion to create an emotional connection between our brand and the families and groups who stay in vacation rentals."
Prior to Visa Europe, Dima worked for LS&Co. where he led marketing strategy and planning across 20 countries and helped transform the perception of the company from just a jean to a lifestyle brand. He also previously managed strategy and segment planning at Vodafone, a leading global telecommunications company, and held marketing leadership positions at PepsiCo Latin America.
"Mariano is truly a global citizen, having lived and worked all over the world, and fluent in multiple languages. We're especially looking forward to leveraging his understanding of the European market, one of HomeAway's most significant and competitive regions," says Sharples. "His leadership will be a major asset to our company."
"HomeAway is more than the leading online marketplace for vacation rentals; it is a brand that connects families and friends to share the most memorable experiences of their lives," says Dima. "I look forward to the opportunity to help transform the vacation rental customer experience, creating platforms for connection and enjoyment and telling the HomeAway story in a very impactful way."
Dima has been recognized over the years as being an incredible visionary in the field of marketing, receiving acknowledgement on such lists as Marketing Week's inaugural "Vision 100" in 2014 for marketers that will shape the future of marketing; Campaign magazine's "Top 10 Marketing Directors" in 2012; and Marketing Week's "Power 100" from 2009-2013.
He begins working at HomeAway in September. He will split his time between the company's Austin and London offices.
Cautionary Statement Regarding Forward-looking Statements
This press release contains "forward-looking" statements, subject to the safe harbor provisions of the Private Securities Litigation Reform Act of 1995, which are based on HomeAway management's beliefs and assumptions and on information currently available to management. Forward-looking statements include information concerning HomeAway's expected, possible or assumed future results of operations, growth and business outlook; roll-out of new products and services; and potential future acquisitions.
Forward-looking statements include all statements that are not historical facts and may be identified by terms such as "will," "to create," "continues," "plans," "believes," "expects," "anticipates," "could," "look forward to," or similar expressions and the negatives of those terms. Forward-looking statements involve known and unknown risks, uncertainties and other factors that may cause HomeAway's actual results, performance or achievements to be materially different from any future results, performance or achievements expressed or implied by the forward-looking statements. Factors that could cause or contribute to such differences include, but are not limited to the effective integration of Mr. Dima into HomeAway and such other risks and uncertainties described more fully in documents filed with or furnished to the Securities and Exchange Commission (the "SEC"), including HomeAway's most recent 10-Q, filed on April 30, 2014. All information provided in this press release is as of the date hereof and, except as required by law, HomeAway assumes no obligation to update this information, even if new information becomes available in the future.
About HomeAway, Inc.
HomeAway, Inc. based in Austin, Texas, is the world's leading online marketplace for the vacation rental industry, with sites representing approximately one million paid listings of vacation rental homes in 190 countries. Through HomeAway, owners and property managers offer an extensive selection of vacation homes that provide travelers with memorable experiences and benefits, including more room to relax and added privacy, for less than the cost of traditional hotel accommodations. The company also makes it easy for vacation rental owners and property managers to advertise their properties and manage bookings online. The HomeAway portfolio includes the leading vacation rental websites HomeAway.com, VRBO.com and VacationRentals.com in the United States; HomeAway.co.uk and OwnersDirect.co.uk in the United Kingdom; HomeAway.de in Germany; Abritel.fr and Homelidays.com in France; HomeAway.es and Toprural.es in Spain; AlugueTemporada.com.br in Brazil; HomeAway.com.au in Australia; and Bookabach.co.nz in New Zealand. Asia Pacific short-term rental site, travelmob.com, is also owned by HomeAway.