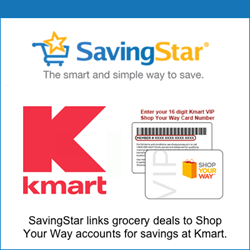 'We've made it easy for Kmart Shop Your Way members to save money on their groceries with a service that fits their lifestyle.' - David Rochon, CEO, SavingStar
Waltham, MA (PRWEB) August 05, 2014
Kmart now offers another incentive to join its free Shop Your Way rewards program with a new way for members to save on groceries that eliminates the hassle of clipping or printing coupons. The retail chain announced today it is joining SavingStar, a free service that helps people save money on dozens of name-brand grocery items every week. Kmart Shop Your Way members simply select offers on SavingStar's website, SavingStar.com or on its iPhone/Android app and at checkout, they will automatically earn cash back in their SavingStar accounts.
How it Works
1. Shoppers register their free Shop Your Way account numbers in their free SavingStar accounts. (Shoppers can join SavingStar at https://savingstar.com).
2. Shoppers then select grocery offers which include cash back deals on cereal, yogurt, snacks, desserts, cleaning products and more. SavingStar links the selected deals to members' Shop Your Way accounts.
3. After making a purchase and using their Shop Your Way number at checkout – either in-store or online at Kmart.com -- cash is automatically added to shoppers' SavingStar accounts (rather than being deducted at the register).
4. Shoppers can then transfer their savings to their bank or PayPal account, or donate to the charity American Forests to help plant trees.
"Shop Your Way members can save hundreds of dollars each year on their favorite grocery brands," said Ryan Vero, SVP & President, Kmart Grocery and Drug. "By linking their SavingStar and Shop Your Way accounts, our members save more every time they shop their neighborhood Kmart."
"In today's digital world, many shoppers want to save on groceries but don't have the time nor desire to print or clip paper coupons," said David Rochon, CEO of SavingStar. "We've made it easy for Kmart Shop Your Way members to save money on their groceries with a service that fits their lifestyle."
Shop Your Way is a free social shopping destination and rewards program offering millions of products, personalized services, and advice. Through a network of retail partners and service providers, members can shop, compare, purchase items and earn points to use on future purchases. Members also enjoy special pricing, exclusive sales, events, access to celebrity brands and sweepstakes. And through the unique social community on shopyourway.com members can research and browse products, create wish lists, poll friends and family and even get advice from experts to help choose the products and services that best meet their needs.
There is no minimum purchase required for Shop Your Way members to redeem points and points can be used toward purchases across countless product categories. Download the free Shop Your Way app available on iTunes or Google Play.
About Kmart
Kmart, a wholly owned subsidiary of Sears Holdings Corporation, is a mass merchandising company and part of Shop Your Way, a social shopping experience where members have the ability to earn points and receive benefits across a wide variety of physical and digital formats through shopyourway.com. Kmart offers customers quality products through a portfolio of exclusive brands that include Sofia by Sofia Vergara, Jaclyn Smith, Joe Boxer, Route 66 and Smart Sense. For more information visit the company's website at http://www.kmart.com | Sears Holdings Corporation website at http://www.searsholdings.com | Facebook: http://www.facebook.com/kmart.
About SavingStar
SavingStar is the Smart and Simple Way to Save. Shoppers earn cash back at the grocery store with offers linked to their supermarket and drugstore loyalty cards or validated when they take a picture of their receipt. The service is known for its Healthy Offer of the Week, Friday Freebies, and One or Many high value rewards. Shoppers also earn cash back on their online purchases for clothes, travel, flowers, and more at over 800 retailers in SavingStar's Cash Back Mall. SavingStar automatically adds the value of each offer redeemed into users' SavingStar accounts, enabling them to pick their payout from cash back to gift cards to charity donations. SavingStar also powers white-labeled grocery savings services, including Upromise, Fuel Rewards Network, and NutriSavings. SavingStar is backed by DCM, Flybridge Capital Partners, First Round Capital, IA Ventures, Edenred, American Express Ventures, and other investors. The company is based in Waltham, MA. For more information, visit https://www.savingstar.com.
MEDIA CONTACTS:
Jamie Stein
Kmart PR
Jamie.Stein(at)searshc(dot)com
Heather Ribeiro
Zeno Group for Kmart
312-527-2SHC (2742)
Heather.Ribeiro(at)zenogroup(dot)com