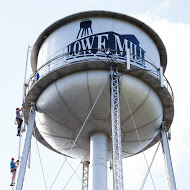 "As a creative community I feel it's our duty to not only honor this factory by preserving and restoring the building, but by collecting and documenting the experiences of those who worked here before us." - Lowe Mill Executive Director Marcia Freeland
Huntsville, Alabama (PRWEB) July 24, 2014
On Saturday, July 26th, Lowe Mill ARTS & Entertainment will host its second ever Lowe Mill Workers Reunion, an event honoring and documenting the history of the Lowe Mill factory through the experiences of former employees while celebrating the building's new role as the largest private arts facility in America.
The event which is open to the public will also feature the debut of a new 320 square foot mural which recounts the history of Lowe Mill as both a textile mill in the early 1900's and America's largest combat boot manufacturer during the Vietnam War.
The huge artwork in the mill's first floor connector event space is the second recent mural designed and painted by Lowe Mill artist Logan Tanner, who recently completed a colorful and surreal two-story design on the factory's east stairwell. Tanner's newest creation is part of an ongoing series in the first floor area designed to educate visitors about Lowe Mill's evolution from an industrial workspace to a creative one.
"One of the best things about Lowe Mill ARTS & Entertainment is the beautiful historic building we are housed in, but it's saddening that so much of that history has been lost to time," said Executive Director Marcia Freeland. "As a creative community I feel it's our duty to not only honor this factory by preserving and restoring the building, but by collecting and documenting the experiences of those who worked here before us."
The reunion is open to the general public from 2 to 4 p.m. and refreshments will be served. Lowe Mill staff invite all former workers, children of workers, and anyone with old photos, artifacts, or oral histories of the factory to participate in the event.
Lowe Mill is popularly known as a Huntsville arts destination with over 100 professional artists working in studios that are open for the public to visit. The facility recently declared itself the largest private arts facility in the United States based on square footage of working studio space, number of professional artists, and number of studios.
###