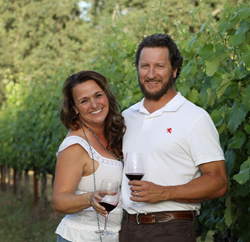 'Year after year, Placer County wines hold their own against the state's finest,' says Placer County Agricultural Commissioner Josh Huntsinger. 'It takes a lot to impress the judges on the panel, but that's what our wineries did.'
Auburn, Calif. (PRWEB) July 24, 2014
Placer County Wine Trail wines have delighted judges' taste buds again at this year's California State Fair Commercial Wine Competition. Placer County vintners took home an astonishing 52 awards, including a Best of California honor, ten Best of Class of Region awards, and 41 gold, silver and bronze medals.
"Year after year, Placer County wines hold their own against the state's finest," says Placer County Agricultural Commissioner Josh Huntsinger. "It takes a lot to impress the judges on the panel, but that's what our wineries did. These awards are a testament to the dedication and passion our local vintners put into their wines."
Receiving more than 2,800 entries this year, the California State Fair Commercial Wine Competition is the oldest and most prestigious wine competition in the state, dedicated to evaluating California wines.
Among the thousands of entrants, 12 Placer County Wine Trail wineries won the following:

Viña Castellano won Best of California, Best of Class of Region, and double gold.
Six wineries won Best of Class of Region awards, including: Davis Dean Cellars, Lone Buffalo Vineyards, Mt. Vernon Winery, Popie Wines, Wise Villa Winery and Viña Castellano.
Three wineries took home gold medals, including: Le Casque, Lone Buffalo Vineyards, and quadruple award-winning Wise Villa Winery.
10 wineries won silver medals, including: Bonitata Boutique Wine, Ciotti Cellars, Pescatore Vineyard & Winery, Secret Ravine Vineyard & Winery, Wise Villa Winery Davis Dean Cellars, Le Casque, Lone Buffalo Vineyards, Mt. Vernon Winery and Popie Wines.
Eight wineries won bronze medals, including: Dono dal Cielo, Bonita Boutique Wine, Le Casque, Ciotti Cellars, Secret Ravine Vineyard & Winery, Popie Wines, Viña Castellano and Wise Villa Winery.
Home to 20 wineries, the Placer County Wine Trail runs from Lincoln to Loomis to Newcastle and Auburn. The wine trail's Best of California and Best of Class of Region award-winning wines will be featured at the California State Fair in the Save Mart Supermarkets Wine Garden for visitors to enjoy from July 11th - July 27th.
ABOUT PLACER COUNTY VINTNERS ASSOCIATION:
The Placer County Wine Trail is organized by the Placer County Vintners Association, a nonprofit association created to provide a forum for wineries to collaborate on events and programs. Together the Association also develops marketing programs to raise awareness of the Placer County wine region. The group believes that sharing best practices with all county wineries inspires the vintners to provide a high quality experience for winery visitors. For more information and maps, visit http://www.placerwine.com or call (916) 663‐4486.
ABOUT PlacerGROWN:
Supported by Placer County, PlacerGROWN is the information source dedicated to educating residents about the freshest agricultural products the region has to offer. Through its website, social media channels and other outreach programs, PlacerGROWN connects community members with the farms, orchards, ranches, wineries, nurseries, farmers' markets and specialty food stores in one of the most diverse growing areas in Northern California. To discover the bounty of agricultural products produced by farmers who call Placer County home, or for more information about PlacerGROWN, visit http://www.placergrown.org.