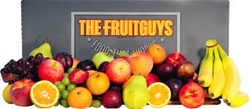 San Francisco, CA (PRWEB) July 25, 2014
The FruitGuys was mentioned favorably in the New York Times' "Small Business" section on July 10, 2014, in a feature article titled "Finding Ways to Use Big Data to Help Small Shops."
Written by freelance journalist John Grossmann, the article provides a current overview of small businesses that are using new technology offerings to better comprehend their inventory, customer service queries, and transaction history. Currently, much more information is accessible to small companies like the FruitGuys, which was "once available to only big corporations with vast computing power and deep information technology departments," Grossman writes.
Chris Mittelstaedt, founder of the FruitGuys, is featured in the article describing the company's use of Desk.com, a software program that quickly filters through information in order to help businesses address customer service issues. Before the FruitGuys purchased Desk.com's service plan for about $40 a month, the company's four customer service representatives often took 24 hours to respond to emails. "Now, we're getting back to customers and solving complicated issues within two hours," says Mittelstaedt.
Desk.com provides the FruitGuys with crucial customer feedback gathered from Facebook feeds, Twitter interactions, Yelp reviews, and other social media outlets. With all of the information delivered quickly to a shared location, the FruitGuys' service representatives can immediately respond to the 1,000 to 1,300 emails that they receive weekly, in order of relevance.
Nicole Wagner, the FruitGuys' chief of customer service, is also quoted in the article describing the benefits of Desk.com. "We'll see trends," Wagner says, "including late deliveries and multiple emails like, 'Hey, we really loved the avocados this week' — information we can pass on to our buyers."
Auto Wash Express — a car wash business based out of Tucson, Arizona — and a 100-seat restaurant called Tremont 647 in Boston, Massachusetts were also profiled in the New York Times feature. FileMaker Pro, a software product that delivers continuous inventory information to tablet hardware like the Apple iPad, and a cloud-based data tool called Swipely were other big data services mentioned alongside Desk.com.
To read the full New York Times article, visit http://www.nytimes.com/2014/07/10/business/smallbusiness/finding-affordable-ways-to-use-big-data.html?_r=3. A version of "Finding Ways to Use Big Data to Help Small Shops" also appeared in the newspaper's July 10 print edition on page B4.
Based in South San Francisco, the FruitGuys delivers boxes of fresh fruit to more than 3,000 businesses and schools across the United States. With regional distribution hubs nationwide — each affiliated with a local network of family farms — the company offers next-day delivery of its produce in environmentally friendly packaging. Since 2008, Inc.com has named the FruitGuys one of the fastest-growing companies in the US every year. For more information about the FruitGuys, visit http://FruitGuys.com/ or send an email to Info(at)FruitGuys(dot)com.