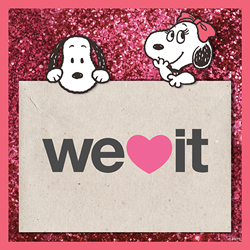 Peanuts has always offered a fresh and original world view, which is exactly what We Heart It fans crave.
New York, NY (PRWEB) July 24, 2014
Everyone loves Snoopy and Belle—now everyone can "heart" the iconic beagles, too: the fashion-forward Peanuts superstars are partnering with social media app phenomenon "We Heart It," to launch brand pages on July 24. The image-based social network boasts nearly 30 million active users who share images that celebrate inspiration, expression, and creativity. Snoopy and Belle will be the first character brands to appear on We Heart It.
"We Heart It is creating a visual revolution in social media, and we're excited to have Snoopy and Belle engage with We Heart It's young and enthusiastic members," said Leigh Anne Brodsky, Managing Director, Peanuts Worldwide. "Just as Charles Schulz's original brilliant imagery created a global fanbase for Peanuts, Snoopy and Belle's photos will be inspiring and delighting a whole new generation of female Peanuts fans."
"With their youthful, ingenious, and fashion-savvy sensibility, Snoopy and Belle are a perfect fit with the We Heart It community, and we're looking forward to a terrifically successful partnership," said Dave Williams, President of We Heart It. "Peanuts has always offered a fresh and original world view, which is exactly what We Heart It fans crave. This will provide an outstanding opportunity for our fans to find inspiration and engagement with this legendary brand."
Snoopy and Belle's We Heart It pages will go live during San Diego Comic-Con on July 24. Belle's first collection, titled "California Dreamin'," will feature images of Belle around the Golden State. New collections will go up each month, with brand new Belle art debuting on the site every three months. Snoopy's We Heart It page will feature collections on classic Peanuts themes, such as "Happiness is…," "Monday," and more.
The new partnership with We Heart It extends an extraordinary track record of social media success for the Peanuts brand. Snoopy's Facebook page boasts nearly 6.5 million Likes; @snoopygrams has more than 330,000 followers on Instagram; and Snoopy and Belle have large and highly engaged followings on Twitter, Pinterest, and Google+.
About Peanuts Worldwide
The PEANUTS characters and related intellectual property are owned by Peanuts Worldwide LLC, a joint venture owned 80% by Iconix Brand Group, Inc. and 20% by members of the Charles M. Schulz family. Iconix Brand Group, Inc. owns, licenses and markets a growing portfolio of consumer brands including: CANDIE'S (R), BONGO (R), BADGLEY MISCHKA (R), JOE BOXER (R), RAMPAGE (R), MUDD (R), MOSSIMO (R), LONDON FOG (R), OCEAN PACIFIC (R), DANSKIN (R), ROCAWEAR (R), CANNON (R), ROYAL VELVET (R), FIELDCREST (R), CHARISMA (R), STARTER (R), WAVERLY (R), ZOO YORK (R), ED HARDY (R), SHARPER IMAGE (R), UMBRO (R), LEE COOPER (R), ECKO UNLTD. (R), andMARC ECKO (R). In addition, Iconix owns interests in the ARTFUL DODGER (R), MATERIAL GIRL (R), PEANUTS (R), TRUTH OR DARE (R), BILLIONAIRE BOYS CLUB (R), ICE CREAM (R), MODERN AMUSEMENT (R), and BUFFALO (R) brands. The Company licenses its brands to a network of leading retailers and manufacturers that touch every major segment of retail distribution from the luxury market to the mass market in both the U.S. and worldwide. Through its in-house business development, merchandising, advertising and public relations departments, Iconix manages its brands to drive greater consumer awareness and equity.
About We Heart It
We Heart It is an image-based social network focused on visual inspiration and expression. The service has a community of over 25 million monthly users who use We Heart It to discover, collect and share images with friends on its highly rated mobile apps and website. We Heart It is adding a million new members per month, over 80% of whom are mobile users. The company has raised more than $8 million in funding and is located in San Francisco, CA.