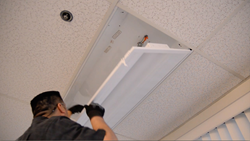 when you look at the numbers, a well-executed energy-efficient lighting retrofit is often the most cost-effective way to achieve significant energy savings
Yorba Linda, California (PRWEB) July 24, 2014
Lighting manufacturer Precision-Paragon [P2] released a statement today urging businesses participating in the Better Buildings Challenge to consider energy-efficient lighting retrofits as a method to achieve the program's targeted 20% energy reductions.
Started as part of the American Recovery and Reinvestment Act, the U.S. Department of Energy's Better Buildings Challenge is a program with a target of cutting energy consumption by 20% at businesses across the country over the next 10 years.
According to the program's 2014 Spring Progress Report, building owners and managers representing more than 3.3 billion square feet of real estate have joined the Better Buildings Challenge. Combined, they have implemented energy-efficiency measures that are generating more than $100 million in annual energy savings.
"Whether you're participating in the Better Buildings Challenge or just trying to reduce your operational costs, you should consider all your options for reducing energy consumption," said Joe Martin, [P2]'s vice president and general manager. "A lighting retrofit isn't always the first thing that comes to mind, so we're working to educate business owners that it can be one of their most cost-effective options."
Lighting energy accounts for a significant portion of the energy used by many businesses in the United States. A fairly typical energy-efficient lighting retrofit will reduce lighting-energy consumption by 40% or more. Some can cut lighting-energy consumption by as much as 90%.
Combined with incentives and rebates, many energy-efficient lighting retrofits will pay for themselves in two years or less.
"There are many ways for businesses to become more energy-efficient," said Martin. "But when you look at the numbers, a well-executed energy-efficient lighting retrofit is often the most cost-effective way to achieve significant energy savings."
The company offers an online lighting retrofit calculator that can help to estimate the potential of an energy-efficient lighting retrofit. Business owners looking for a more accurate estimate of the potential for a lighting retrofit in their facility can call the [P2] Service Hub at (714) 386-5550.
---
About Precision-Paragon [P2]: For over 20 years, [P2] has made high-quality, indoor-and-outdoor light fixtures for a wide range of applications in retail, commercial and industrial spaces. [P2]'s energy-efficient lighting drastically cuts energy consumption, creating big cost savings and significant environmental benefits.
Over the last two decades, [P2] has earned a reputation for going the extra distance in customer support by producing high-quality, American-made products. [P2] products are manufactured in Hudson, Wis. and at the company's headquarters in Yorba Linda, Calif..
Website: http://www.p-2.com