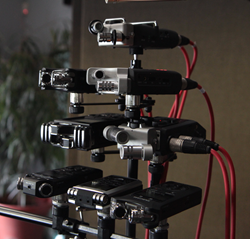 For a fair comparison, there can only be one variable and in this case, only the recorders are different.
Denver, CO (PRWEB) July 24, 2014
Denver, Colorado-based pro audio equipment dealer, Sonic Sense has released a new online auditioning system that enables users to compare handheld recorders. This is the first time that shoppers have been able to directly compare the recording quality of this many popular handheld recorders over the internet. Unlike traditional brick and mortar settings, online auditioning enables shoppers to accurately compare how recorders matchup in a controlled environment.
The recording engineers at Sonic Sense used nine of the most popular portable recorders in the $200-$600 price range in near-laboratory-level conditions. All the recorders were run at the same time, in each scenario, to assure users could evaluate how each performed under the nearly identical conditions.
"For the past 20 years, we have been setting up direct comparisons of recorders, preamps, converters and microphones while minimizing variations," states Sonic Sense COO, Marc Nutter. "For a fair comparison, there can only be one variable and in this case, only the recorders are different."
Nearly 60 recordings are available for streaming and high-resolution download in organized sets in the Sonic Sense Resource Center along with interactive video reviews, infographics and written articles. The recordings include samples of a band performance in a live venue, a band rehearsal, a studio session with a folk singer/songwriter, outdoor ambient sounds, and an interview recorded in a noisy environment. Users can directly navigate between recordings from the various handheld recorders to see how each sounds beside the others and relative to recordings made on higher-priced reference systems.
Designed to allow online users to learn about and audition audio equipment that best suits their personal tastes and applications, the Sonic Sense Resource Center regularly conducts structured tests of audio gear and musical instruments. The one-of-a-kind online auditioning system was recently featured in an article by PC Magazine.
Sonic Sense started as an online audio retailer in 1994. Preferring to focus on product education so users could determine what best suits their tastes and applications, the company has always offered demos, tutorials, and comparisons. Recognizing that most equipment needs accessories and other components to operate fully, Sonic Sense specializes in providing purpose-built product packages. The company now offers a diverse array of pro audio and musical instruments along with detailed information about them. For more information about Sonic Sense, visit http://www.sonicsense.com or https://plus.google.com/+SonicSenseProAudio.