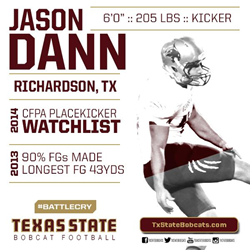 Charleston, SC (PRWEB) July 30, 2014
College Football Performance Awards (CFPA) announces the 2014 CFPA Placekicker Trophy Watch List. The initial watch list includes 40 placekickers from the Football Bowl Subdivision. All players are eligible for awards at their respective positions; players are not preemptively eliminated from consideration.
The 2014 CFPA Placekicker Trophy Watch List is one of eleven preseason watch lists for the Football Bowl Subdivision. The 2014 CFPA All-Purpose Performer of the Year Trophy Watch List and 2014 CFPA National Freshman Performer of the Year Trophy Watch List will be released during the season.
Last season, Florida State's Roberto Aguayo earned the 2013 CFPA Placekicker Trophy. Other winners at placekicker include: Cairo Santos (Tulane), Randy Bullock (Texas A&M), Caleb Sturgis (Florida), Alex Henery (Nebraska), and Blair Walsh (Georgia). Winners of the CFPA Specialist Trophy for overall kicking performance include: Anthony Fera (Texas), Brandon McManus (Temple), Dustin Hopkins (Florida State), Adi Kunalic (Nebraska), David Buehler (USC), and two-time winner Quinn Sharp (Oklahoma State).
"I have been associated with the CFPA since 2008, which has been tracking player performance and team performance through their indices," said Davidson College professor Paul Studtmann. "I want to take this opportunity to wish all the teams and players great success this season."
2014 CFPA Placekicker Trophy Watch List:
Will Conant, Air Force
Zane Gonzalez, Arizona State
Dan Goodale, Boise State
Tyler Tate, Bowling Green
Will Oliver, Colorado
Jared Roberts, Colorado State
Ross Martin, Duke
Roberto Aguayo, Forida State
Marshall Morgan, Georgia
Jack Cantele, Kansas State
Kyle Fischer, Louisiana Tech
John Wallace, Louisville
Colby Delahoussaye, LSU
Brad Craddock, Maryland
Jake Elliott, Memphis
Matt Goudis, Miami
Kaleb Patterson, Miami (OH)
Michael Geiger, Michigan State
Niklas Sade, NC State
Brent Zuzo, Nevada
Maxwell Johnson, New Mexico State
Kyle Brindza, Notre Dame
Josiah Yazdani, Ohio
Michael Hunnicutt, Oklahoma
Austin Lopez, San Jose State
Aleem Sunanon, South Alabama
Elliott Fry, South Carolina
Jordan Williamson, Stanford
Jaden Oberkrom, TCU
Jason Dann, Texas State
Ryan Bustin, Texas Tech
Jeremiah Detmer, Toledo
Carl Salazar, Tulsa
Ty Long, UAB
Shawn Moffitt, UCF
Marvin Kloss, USF
Andy Phillips, Utah
Nick Diaz, Utah State
Garrett Schwettman, Western Kentucky
Andrew Haldeman, Western Michigan
CFPA Announces 2014 FCS Punter Award Watch List:
CFPA also announces the 2014 CFPA FCS Punter Award Watch List. The initial watch list includes 38 punters from the Football Championship Subdivision. Portland State punter Kyle Loomis returns for the 2014 season after earning the award in 2013.
The final preseason CFPA FCS Awards watch list will be released August 8, 2014.
2014 CFPA FCS Punter Award Watch List:
Austin Kilcullen, Abilene Christian
Jon Martin, Albany
Haiden McCraney, Alcorn State
Ben Campbell, Austin Peay
Adam Lutz, Campbell
Nick Pollard, Chattanooga
Chris Fraser, Cornell
Eric Enderson, Delaware
Jake Miller, Eastern Washington
David Petroni, Elon
Johnathan Wallace, Grambling
Christian Faber-Kinney, Hampton
David Bicknell, Harvard
C.J. Reyes, Idaho State
CJ Laros, Illinois State
Darcy Williamson, Jackson State
Hamish MacInnes, Jacksonville State
Jeff Ondish, Maine
Jean Breaux, McNeese State
Stephen Shaw, Montana
Lawrence Forbes, Morgan State
Mitch Meindel, North Dakota
Ben LeCompte, North Dakota State
Logan Bieghler, Northern Iowa
Kyle Loomis, Portland State
Stephen Doar, Presbyterian
Lachlan Edwards, Sam Houston State
Greg Peranich, Samford
Ryan Belden, San Diego
Miles Bergner, South Dakota
Ethan Sawyer, South Dakota State
Nick Bruno, Stephen F. Austin
Cory Carter, Texas Southern
Jake Ryder, Towson
Colby Wadman, UC Davis
Brad Prasky, UNH
James Satterfield, UT-Martin
Josh Kealamakia, Weber State
About College Football Performance Awards
The goal of College Football Performance Awards is to provide the most scientifically rigorous conferments in college football. Recipients are selected exclusively based upon objective scientific rankings of the extent to which individual players increase the overall effectiveness of their teams. Twenty-eight CFPA winners have been first-round NFL Draft selections.