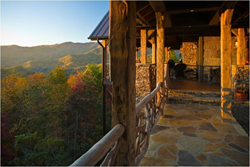 "A 47% growth rate in such a short time period is a tremendous accomplishment for a high-end club."
Libertyville, IL (PRWEB) July 28, 2014
Under the ownership of The Challenge Golf Group of Texas and developer/owner David Carlile, the Western North Carolina community of Balsam Mountain Preserve has achieved a 47% growth rate over the last 2 ½ years. Located 38 miles west of Asheville near Sylva, North Carolina, Balsam Mountain Preserve is a gated community offering 400 home sites on 4,400 wooded acres, making it one of the lowest density communities in Western North Carolina.
In a recent July 2014 letter to club members, Carlile, who is also a resident and home owner at Balsam Mountain, shared news of positive growth indicators, saying, "Eight new families have joined the Club so far this year, bringing the total number of family members to 143. When The Challenge Golf Group acquired Balsam about 2 ½ years ago there were 97 members. By any measure, a 47% growth rate in such a short time period is a tremendous accomplishment for a high-end club, particularly in light of the challenging environment we continue to operate within."
A further positive indicator for the community's future is the amount of new construction. While 2 ½ years ago there was just one home under construction; today eight homes are under construction, with three more in active review. Six of the eight homes under construction in the community are being built for families who purchased their home site in the last two years, stated David Carlile.
Other positive developments in the community include the initiation of a search for a new head golf pro to lead the golf operation in 2015, and the continuation of a robust equestrian program. The professionalism, work ethic, and dedication of a core group of managers to serving Balsam's members also continues to ensure a top-notch experience for residents.
"We are not surprised by Balsam Mountain Preserve's success in recent years," said Marian Schaffer, Principal and Founder of Southeast Discovery, a company that helps buyers actively looking for a retirement or second home in the Southeast find the right area and community to call home. "Committed ownership at the helm makes a significant difference, not to mention the fact that Balsam Mountain offers a high quality master-planned community concept with the lowest density real estate experience likely found in all of Western North Carolina."
Balsam Mountain Preserve appeals to those who have an appreciation of nature and the desire to own property in a low-density development. The community is essentially a "camp" for adults and families, with each home surrounded by the natural scenery of the Western North Carolina mountains. Over 3,000 acres of Balsam Mountain Preserve have been placed in a conservation easement through the North American Land Trust, ensuring the acreage will never be developed.
Amenities include an 18-hole Arnold Palmer golf course, an equestrian center, Nature Center and an outdoor pool with gated entrance. Balsam Mountain Preserve's 6,600-square-foot lodge, "The Boarding House," is a family restaurant and gathering place located at the top of the mountain.
Balsam Mountain Preserve is conveniently located off Highway 23/74 near both Sylva and Waynesville, North Carolina, 38 miles outside of Asheville.
About Southeast Discovery
Since 2004, Southeast Discovery has been a trusted resource for candid information and insight on communities, developments, and general real estate in the Southeast. Through its highly-ranked web portal, newsletter and blog and its one-on-one work with clients, Southeast Discovery helps buyers actively looking for a retirement or second home in the Southeast navigate the process of identifying the right area and community for their needs. To learn more, visit http://www.southeastdiscovery.com/.