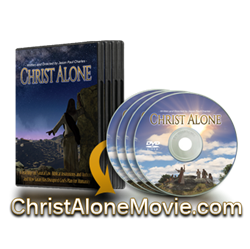 If 501c3 churches were allowed to teach the principles in this film there would be a 2nd war for independence without a doubt
Kalispell, Montana (PRWEB) July 25, 2014
Featured Interviews: Amb. Alan Keyes, Dr. Chuck Baldwin, Dr. Katherine Albrecht, Don McAlvany, Ty Bollinger and Tim Baldwin, J.D., George W. Hunt tackle some of the most critical issues facing our world today through the life, teachings and ministry of Jesus Christ.
World Premiere Screening will be held in Kalispell, MT @ The Mountain Mall Cinema 10:00 A.M. on Saturday, July 26th, 2014. DVDs will be available for purchase.
Writer and Director Jason Paul Charles stated when describing this brand new film, "Never has a film about Jesus ever been made quite like this, the information discussed over the course of this 2 hour film tackles every issue that mainstream churches, seminaries and universities refuse to touch on. Mainly that of Natural Law, the proper role and jurisdictions of the Biblically defined institutions of God, Mankind, Family, Church, Society and Government and how the enemy of this world is systematically destroying each of these foundational institutions to the determent of our society.
"Let's face it, churches and universities will not teach Natural Law, like they did during the Revolution era because our government and all governments throughout history have been in constant violation of the natural rights of all men. If 501c3 churches were allowed to teach the principles in this film there would be a 2nd war for independence without a doubt. Our institutions provide nothing but excuses, rationalizations and financial incentive to dehumanize and destroy our fellow men and women at home and across the globe. My personal prayer is this film becomes a convicting voice on a nation that is slowly becoming as wicked, ignorant and heartless as any of the most ruthless regimes in history."
Christ Alone, features amazing 3D animation that recreates the ministry scenes of Jesus that creatively blends the story line of the gospel narrative and the evils of His day with what we are seeing right now in America.
The topics the film covers:

Natural Law
Biblically defined roles of Man, Family, Church, Society & Government
Eugenics
Transhumanism
Population Control
Agenda 21
RFID
The New World Order
Federal Reserve/Central Banks
Dangers of Institutionalized Churches
2nd Amendment/Self-Defense
and many more!