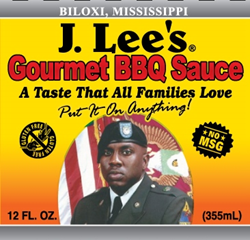 Biloxi, MS (PRWEB) July 24, 2014
Looking at a bottle of J. Lee's Gourmet BBQ Sauce, a few things stand out right away. The uniformed soldier pictured on the label, the mottos "Put it on anything" and "A taste that all families love", and the words Biloxi, MS. Biloxi is the hometown of the company's CEO, Helen J. Lee; the founder of the recipe, James Lee; and the Sales and Marketing Director, Ashante Vereen. Biloxi is also the city that Curtis Jennings, J. Lee's Public Relations Officer calls home. Curtis is originally from Washington D.C., and retired after 30 years of service in the United States Air Force out of Keesler Air Force Base in Biloxi.
J. Lee's Gourmet BBQ Sauce is swiftly sweeping the nation and swiftly closing in on a successful first year of operation. As sales continue to grow at a rapid rate, the corporation prepared for the expected growth by establishing its corporate headquarters in the city where it all began, Biloxi, MS. The Sauce Team recently located its office in the Innovation Center Complex at 1636 Popps Ferry Road, Suite 225, Biloxi, Mississippi. The Innovation Center is an incubator for small businesses that is continuously seeking new methods of growing the entrepreneurial spirit on the Gulf Coast. It provided the perfect fit for the immediate and future anticipated growth for J. Lee's Gourmet BBQ Sauce Inc. The easily accessible location from the city or nearby I-10 Interstate, provides future commercial customers a convenient opportunity to schedule an appointment to meet with TST. J. Lee's is committed to being a permanent fixture in the city of Biloxi; and to upholding the values of hard work, dedication, and giving back to the community.